In AZTECA Cerámica we want to show you our elegant Calacatta Collection, created with imitation calacatta marble tiles.
As its name suggests, the design of AZTECA's Calacatta Collection is inspired by white calacatta marble.
What is calacatta?
The calacatta is a type of marble of a spectacular white color, with gray veins.
As a ceramic manufacturer with more than 60 years of experience, we know that the success of our Calacatta Collection is due to the successful calacatta marble effect of our tiles.
Moreover, our imitation Calacatta tiles can give the elegant and stately touch of this type of natural stone, in any room of our homes.
Also, it is a trend in the world of decoration, the daring combination of tiles that imitate different decorative materials:
As we have seen in the last international ceramics fair CERSAIE 2022, combining imitation marble tiles with other imitation wood or stone tiles is the favorite option of the best architects and designers in the world of decoration.
With respect to using tiles in porcelain material, it should not be forgotten that porcelain tile offers better quality due to the great advantages offered by its great qualities:
Strong resistance to abrasions, scratches, shocks and stains.
Easy maintenance due to its minimum degree of porosity that allows cleaning with all types of products.
Long durability in perfect condition.
Calacatta white marble porcelain tile
In AZTECA, for the Calacatta Collection we have manufactured imitation white marble tiles in two different types of ceramic materials and different formats:
Rectified porcelain tile: 90×90; 60×120; 60×60; 30×60
Porcelain tile not rectified: Hexagonal: 52×60
Rectified white pulp: 40×120; 30×90; 30×60
We also have in our Calacatta Collection, three different finishes in the appearance of imitation marble tiles in porcelain and two other finishes in white paste for cladding:
PORCELAIN: porcelain tile

NATURAL: natural
ANTI-SLIP: slip resistance

WHITE BODY: white paste (coating)

MATT: matte
GLOSSY: shiny
Whether matte or glossy, the appearance offered by our imitation calacatta tiles allows us to create the noble and elegant atmosphere that we wish to have in our kitchen or bathroom.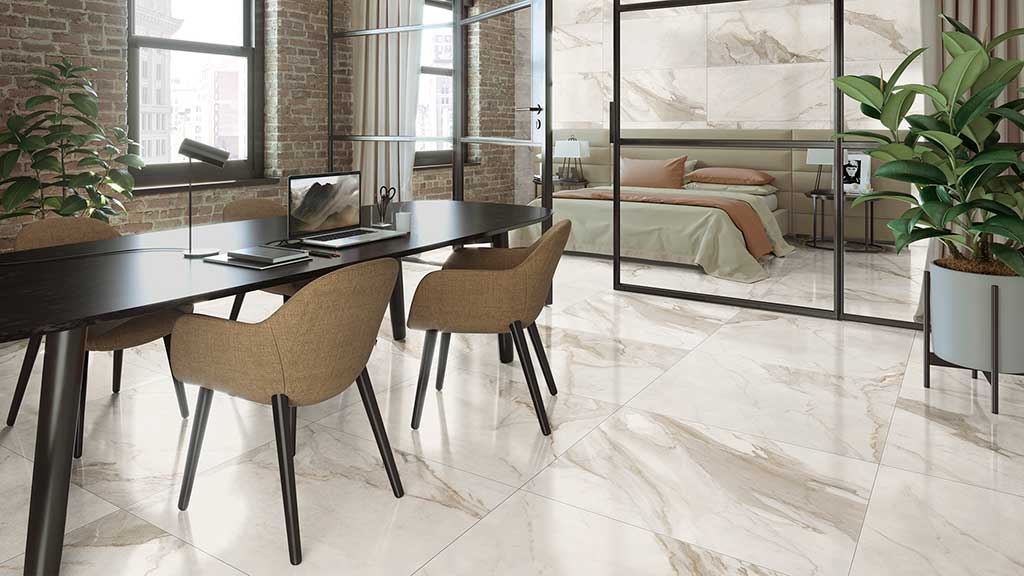 Calacatta marble porcelain tiles: Calacatta Collection, AZTECA Cerámica
Undoubtedly, our Calacatta marble tiles can be integrated in modern and avant-garde spaces without losing their elegant and sober style.
Two other important advantages that are obtained with the spectacular white of the calacatta imitation marble tile are:
Greater luminosity.
Sensation of spaciousness.
Another successful option for decorating bathrooms and kitchens with tiles imitating calacatta is to userectified porcelain tiles .
As humidity, water and dirt are unavoidable in this type of rooms. the minimal perception of joints between the rectified tiles prevents the accumulation of dirt, making cleaning much easier.
Bathrooms and kitchens imitation Calacatta marble tiles
The imitation marble tiles of our Calacatta Collection are ideal for creating authentic luxury bathrooms.
In terms of quality, at AZTECA we consider rectified porcelain tile as the most suitable for decorating bathrooms and kitchens:
The high quality of the porcelain material for this type of rooms so exposed to water and humidity.
Grinding of your tiles by greatly facilitating their cleaning.
With respect to the aesthetic result, the combination of imitation Calacatta marble tiles with other mosaic effect tiles is spectacular, with its own identity and character,
AZTECA 's Calacatta Collection offers porcelain tiles imitating white marble with its veins in two shades:
Calacatta GOLD: golden.
SILVER Calacatta: silver.
These sets of different shades of Calacatta imitation porcelain tiles allow us to decorate bathrooms and kitchens taking into account the different tastes and styles of our customers.
The strong trend of imitation wood tiles for bathroom floors is perfect when combined with Calacatta tiles on the walls, thus obtaining a modern and innovative result while remaining elegant.
As you can see in our Calacatta Collection, the imitation marble tiles for bathrooms and kitchens, combine perfectly with the rustic and industrial decoration style so in trend.
As with the Calacatta mosaic effect tiles, the Calacatta tiles with flagstone effect break the monotony of the pattern of the rest of the tiles that decorate the kitchen or bathroom, with a stylish and beautiful result.
We also note the strong tendency to use gold and metallic tones in decoration, hence the success in sales of Calacatta Gold for kitchens.
Therefore, the combination of different imitation white marble tiles for bathrooms and kitchens from the Calacatta Collection offers infinite possibilities to decorate with the style of each client.
Calacatta marble exterior tiles
As mentioned above, in the Calacatta Collection we have imitation white marble tiles in three different types of porcelain finishes:
NATURAL
ANTI-SLIP
LAPADO BRILLIANCE
For the exterior, AZTECA recommends paving with non-slip porcelain tiles from our Calacatta Collection.
Obviously, non-slip tiles are the best guarantee of safety for the transit of outdoor areas, thus avoiding possible slips or falls.
Do not hesitate to contact us for advice so we can help you choose the Calacatta marble imitation porcelain tile that you like and best suits your needs.
In addition, you have the Reality Remod tool that, without the need to download or install, will allow you to visualize the final appearance of the white imitation marble tiles from our Calacatta Collection that you have selected .