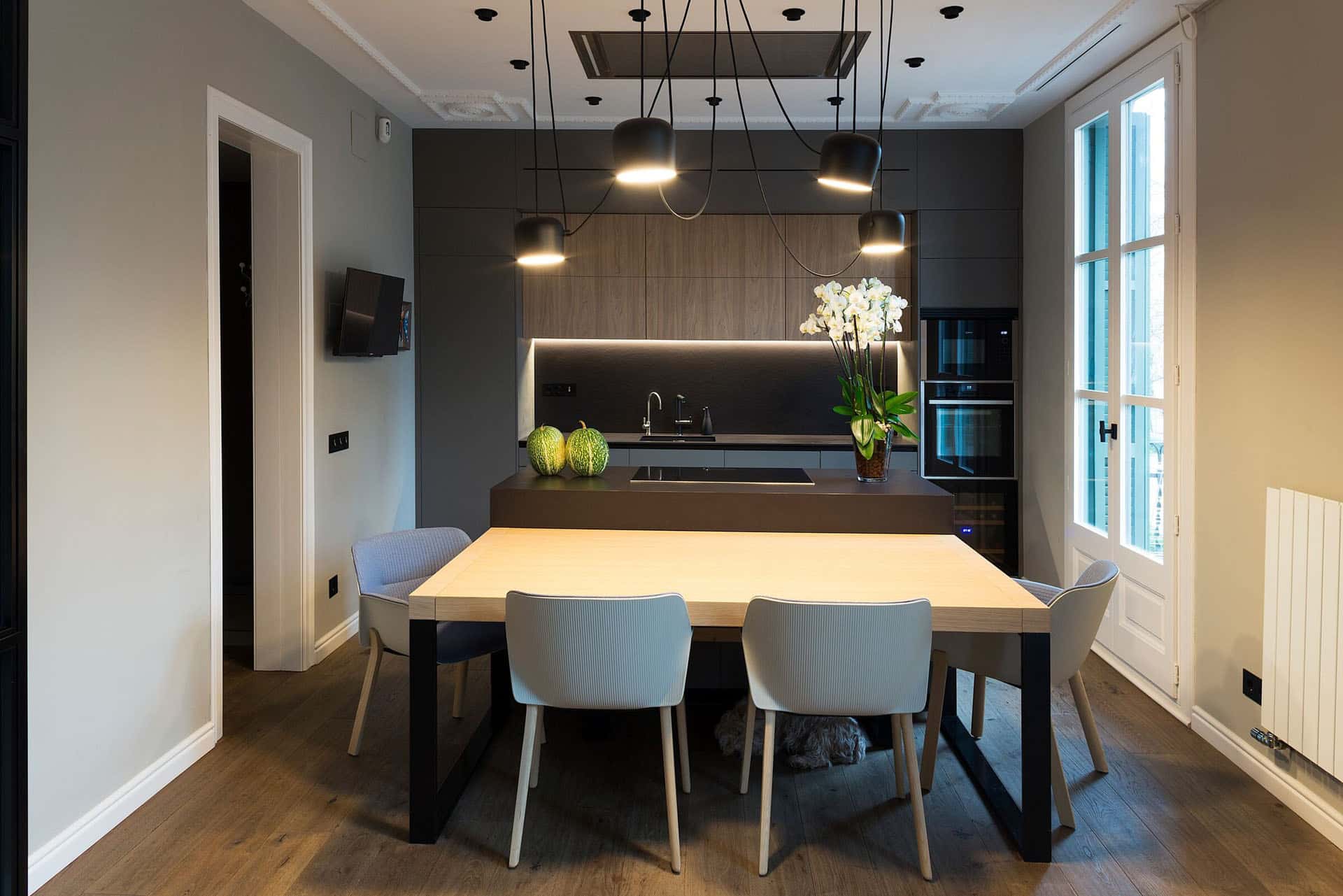 (BARCELONA APARTMENT – PRIVATE PROPERTY)
LOCATION: Example (Barcelona)
ARCHITECT: Goiko Studio (published by Archello)
CATEGORY: Private houses.
PRODUCT USED: ANETO & DELHI Collection
DESCRIPTION: MOOD House is located in a building from the beginning of the 20th century located on a busy street at the entrance to the city of Barcelona.
The project was a great challenge: it was about redefining the distribution of a single-family home with specific requirements in a rigid multi-family building, since the load-bearing wall structure on the first floor made it impossible to dismantle the walls.
It was necessary to completely change the distribution of the house and for this the day area (kitchen, living room and dining room) had to be integrated to refresh it and open it to the main façade, without forgetting the study area.
In order for the apartment to regain its lost elegance and grace, it was necessary to restore the original high ceiling. The load-bearing walls remained intact without having to give up a functional distribution of spaces. In search of an open, integrated and well-lit day area, the kitchen-dining-living room was arranged towards the façade. At one end custom-made furniture was used to create a separate yet connected study for all members of the family, with views of the leafy trees across the street.
The old study was converted into a toilet and pantry, responding to the request of the owner to have as much storage space as possible. The old kitchen was divided in two to convert it into an en-suite bathroom and a maid's room. Therefore, it was possible to create an en-suite bathroom that can be converted into an adapted bathroom at a later date by simply removing the shower screen.
The old en-suite bathroom added extra square meters to the main bedroom, thus providing an open and adapted dressing room, structured around a custom piece of furniture that combines the headboard of the bed and the wardrobe.
Only three materials were used: wood, microcement and porcelain, the latter from Azteca Cerámica. This combination is present throughout the house and works as the common thread that unites the project. The colors used were also restricted to three: shades of gray, wood and, exceptionally, the use of copper.
The result is a sober and serene home, in which wood (for the floor and custom-made furniture) and copper take center stage in the proposal.
The intervention has provided the house with optimal thermal, acoustic and functional comfort, which allows the owner family to live their day-to-day lives in spaces that come together without functional or visual obstacles and bathed in sunlight.