In the latest and most prestigious architecture, design and interior design appointments, large formats are being consolidated as a trend when it comes to consider refurbishing or new interior design and decoration projects. We are immersed in a period in which large formats are prevailing in the market, and the main concern of ceramic manufacturers is to succeed in finding the most suitable collection that the consumer is asking for.
Formats like 80×80, 60×120 or 45×90 are some examples of formats that are becoming more and more famous and whose presence is stronger among the range of proposals that, both interior designers and designers prescribe in their most demanding ideas or projects.
We are talking about linear formats suitable for any kind of refurbishing, renovation, even in large public areas, which will give a sense of spaciousness to the space they cover. We also have to take into account that large rectangular formats generate a sensation of relief as well as a restrained and harmonic view of the whole.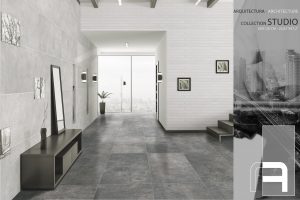 There are endless graphic options and designs, especially in porcelain finishes, which are already available in the market for any of these formats. Stones, wood, marble, metallic finishes, etc. each space has now the perfect proposal to be covered by.
Design, texture, tonal gradation, variety of graphics and, obviously, format, will be a "must" in future interior design projects. For example, for large spaces or modern surfaces such as boutiques or restaurants, you can opt for a metallised proposal in a 60×120 format, which will give a sense of spaciousness to the room, with an avant-garde touch given by metallised graphics. On the other hand, if you are an ambitious consumer who banks on design and likes large, bright and relaxed rooms, coated with large tiles with sober designs… the format 45×90, in any of its neutral finishes, can be the perfect option for any living room.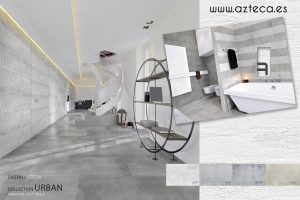 When placing these XL formats on the floor, we find a great amount of advantages. It is a solution that allows us to reduce the number of joints to the maximum, avoiding thus the possible mistakes or defaults in the covering and considerably optimizing the space with a minimum effort.
Finally, it is also important to pay special attention to the decoration of your space. Recently, minimalist decoration is the prevailing one and it is imposing itself as trend. Obviously, these XL ceramic formats are the most suitable ones to decorate a smooth, soft and light proposal.
Decorative pieces or mosaics are the proposals for the most creative customers, so that they can combine large formats with a slight touch of boldness.
In our website, you will be able to find a lot of new launches that will give you a pleasant surprise when considering your interior design projects in XL formats.
Collections such as Studio, Seastone, Portobello, Elektra, Cosmos… are already available in Azteca's range of products.