Ceramic novelties arrive at Azteca. On this occasion, we wanted to launch a special product that was carefully selected with ground-breaking aesthetics, one that would always set the trends.
With each one of our collections, we work carefully on even the most minute details, always considering our clients and offering ceramics solutions for all kinds of spaces.
We invite you to learn about each one of our new designs for 2023 in detail:
BELLVER COLLECTION
This is a bas relief, bush-hammered limestone that comes in five natural colours, made for covering walls as well as floors.
The stony, bush-hammered relief offers an even more realistic effect to this design, made to embellish interior spaces with its natural finish (C1) or outdoor spaces with its anti-slip finish (C3).
Rectified porcelain formats: 90×90, 60×120, 30×60.
Muretto and T5 mosaics are added as complements.
To top off the offer, several different decorations were developed, too.
Plane Relief in 60×120, to decorate walls with a timeless, linear design.
Blossom Decoration, a subtle relief reflecting plant motifs.
Beauté Decoration, a damask style perfect for any wall.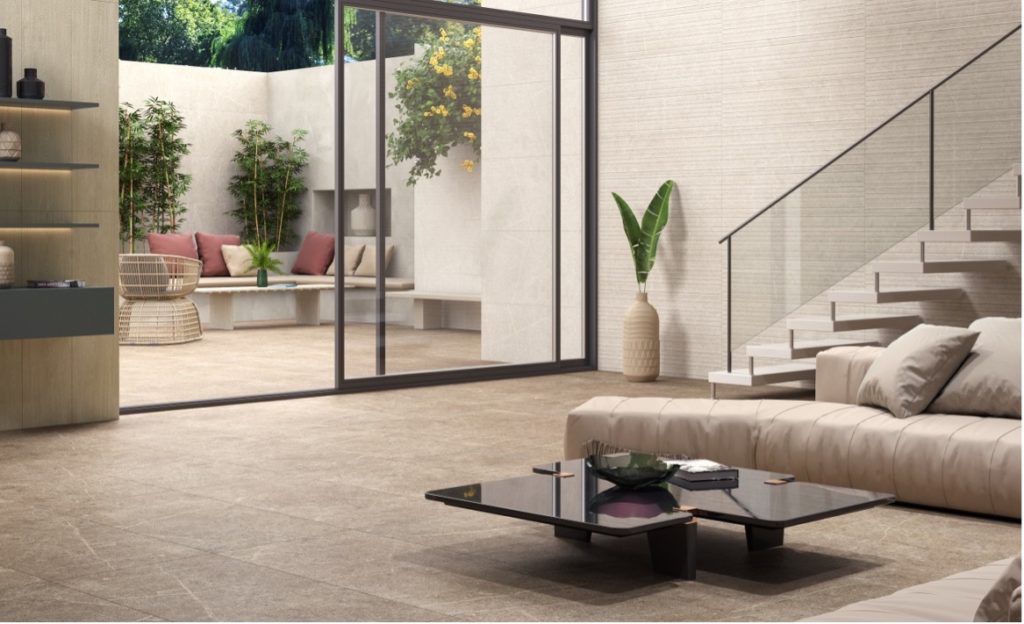 KAI COLLECTION
The KAI Collection is a fusion of natural, hand-worked cement and the veining of Sahara Noir marble. It is one of the most daring and ground-breaking designs that Azteca is launching this year.
Rectified porcelain formats.: 60×120, 60×60.
Available with a natural finish and with anti-slip finish (C3).
As an accessory, we have added two different mosaics: The T5 5×5 tesserae and the new hexagonal format.
For wall coverings, there are two formats: 40×120 and 30×60, both rectified, an three decorative options: Kronos (metallic effects), Karol (vegetal designs) and Kross.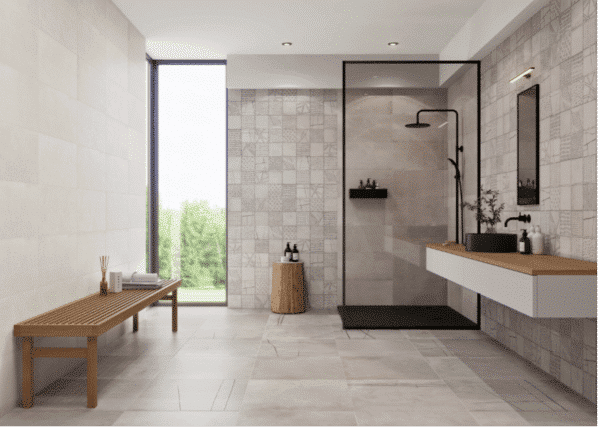 METALLIC DECOR COLLECTION
A new concept joins the existing Metallic Decor collection in cladding. It is the JOIA R90 PEARL, an elegant piece with a pearly shine and a subtle relief. A versatile piece for all types of spaces.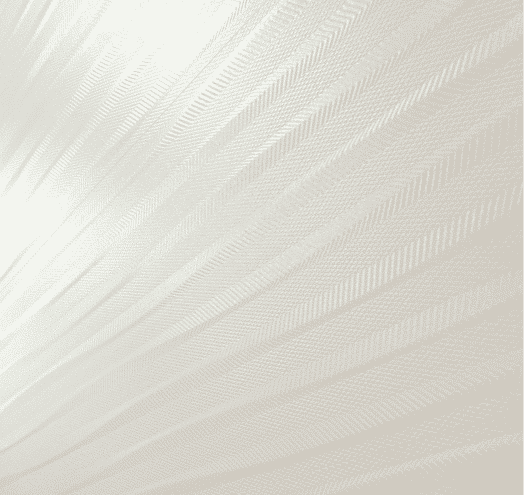 NAGOYA COLLECTION
Nagoya is an exotic marble that came about from blending quartzite with a fior di bosco marble.
Rectified porcelain formats in 60×120, 60×60, 30×60, and 15×60.
Colours: the most classic tastes—like ivory, grey, or graphite—to the most daring—with crystal and greige.
The natural finish comes with a light, stony relief to make the pieces appear more realistic, while the "Lux" finish is Azteca's esteemed lapped finish.
To complete the collection, we present two different mosaics: the 5×5 tesserae mosaic and a hexagonal one.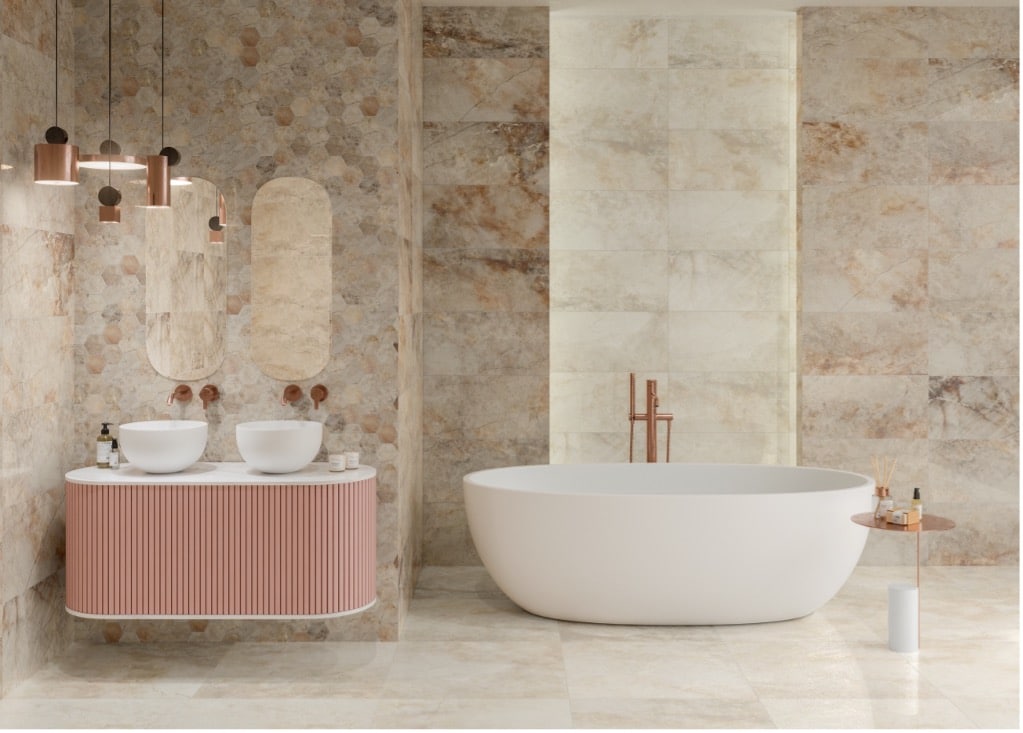 VULCANO COLLECTION
Vulcano is a composition inspired by the movements of incandescent lava. The most intriguing part of the Vulcano Collection is the "gloss-matte" and "double gloss" contrast technique to create an impressive effect of depth.
It comes in 60×120 and 60×60 formats in four colours: anthracite, basalt, magma, and quartz.
To complete the collection, there is also the T5 mosaic.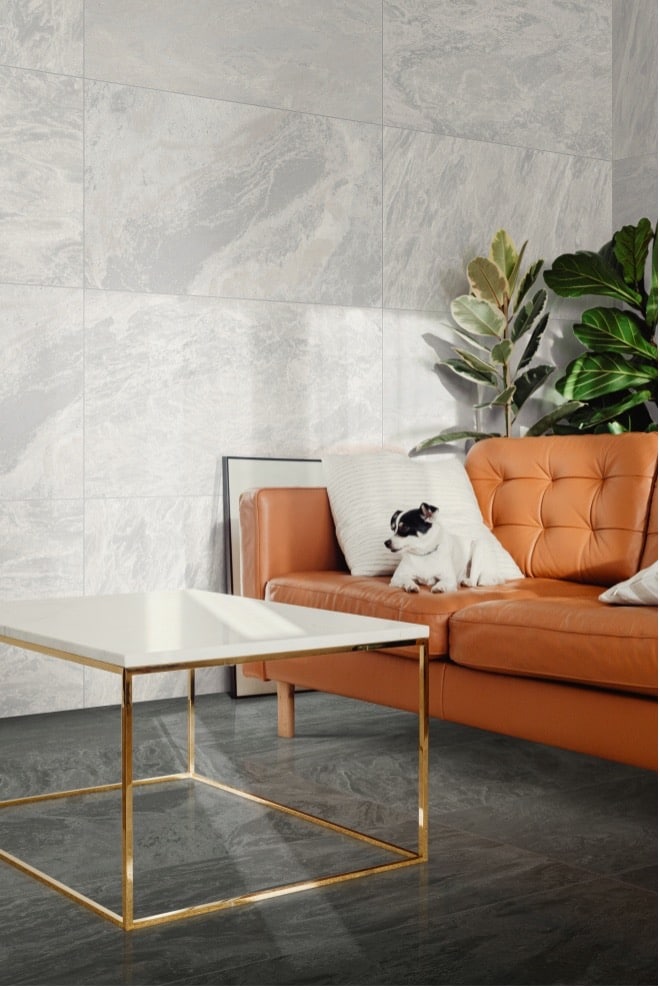 SENSE COLLECTION
This collection is inspired by soft textile designs with a spirit of simplicity, delicate and subtle.
We offer classic colours like grey, earth, and white, but we have also launched two trendy colours: pale rose and pastel blue.
The decorations, which mimic painted paper, are in fashion right now. That is why we wanted to offer different decorative options in line with this idea.
The Sendai decoration fills walls with colour and elegance.
The Stripe decorations create a kind of bar, combining white-grey or earth-white tones.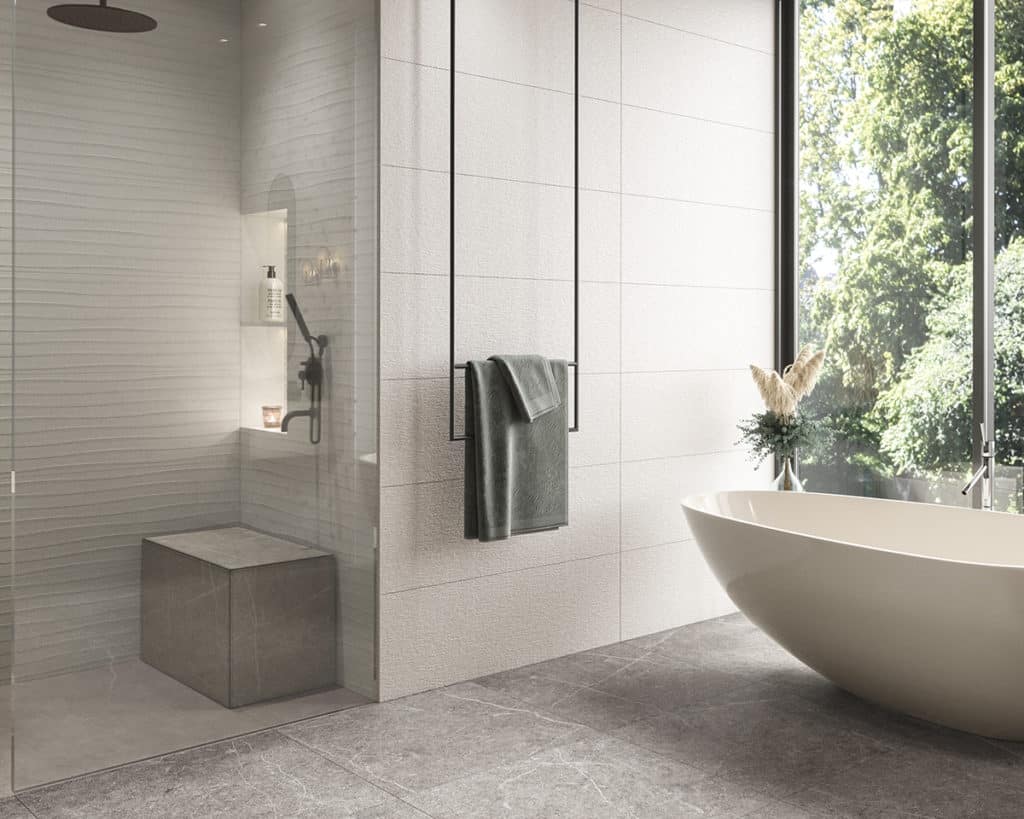 PALETTE COLLECTION
Palette is an homage to trendy tones for the 2023 year. We are leaving austerity behind and making way for colour and combinations with this collection.
It is made up of six base colours (bleu, gris, blanc, noir, rouge, vert), as well as six extremely subtle yet modern decorations.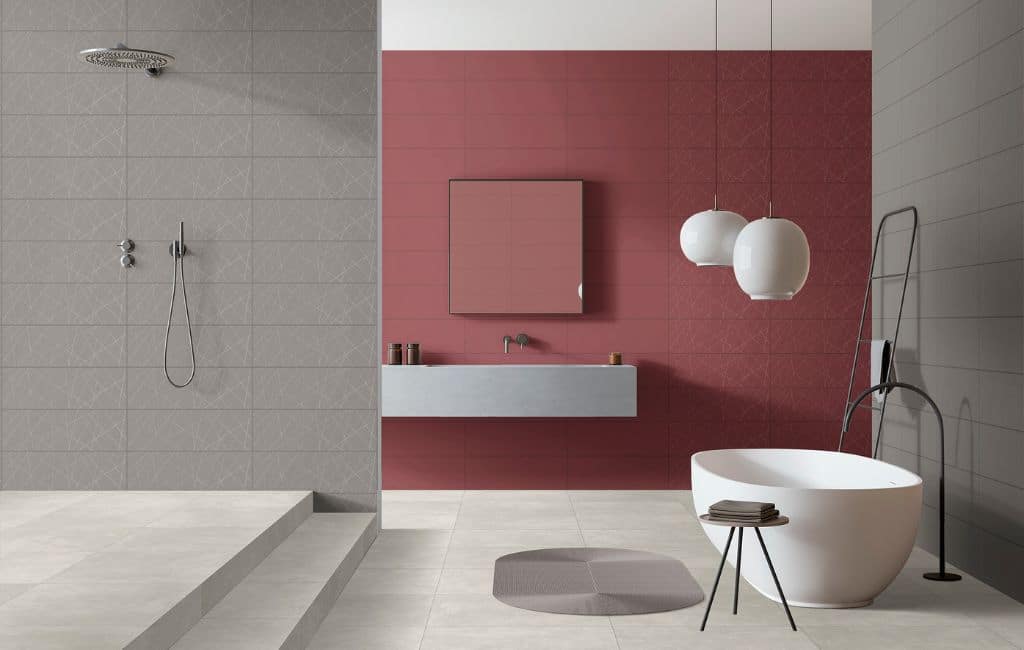 CALACATTA COLLECTION
Calacatta is one of the most well-known collections by our customers. This collection is well-established on the market, so we have decided to incorporate the 90×90 format in two colours (gold and silver) with both natural and lapped finishes.