From Azteca's R&D department, this year, we are committed to the development of collections with a great number of ceramic effects, thus contributing more value to the pieces, with very well-studied designs adapted to our markets and to interior design and architectural trends.
Ceramics have been present throughout our history, whether in household objects, in our homes, in the streets, or in buildings… and now, more than ever, it is part of our innovation and culture.  This is because ceramic has ceased to be a building material and become a more decorative product, a material that solves constructive problems, capable of personalizing any space.
We invite you to get to know each of our new designs for the 2020 year in detail.
Capri Collection
It is a collection designed by hand, with extreme subtlety in both the bases and decorations. All designs have been hand crafted and subsequently digitized for production in line with new technologies.
The graphic is made from a very soft stone, without streaks or contrasts, to create very subdued walls, avoiding sharp contrasts.
The 3 tones that make up the collection are derived from natural elements–the WHITE tone with a broken shade of white like cotton, a BONE tone reminiscent of a sandy beach, and a GREY tone, like that of a river stone.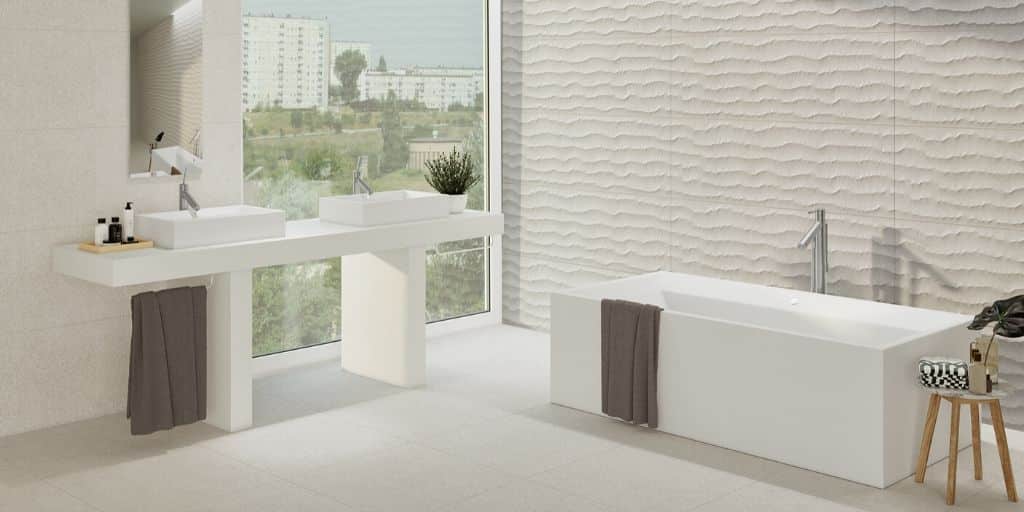 The collection is dressed up with two kinds of relief with a lot of character, but each one conveys different sensations. The MIA relief is inspired by nature, because it imitates a wall of plants moved by the force of wind, transmitting joy and well-being.  The KANT relief, a fairly marked design, is very thin with smooth lines, which imparts simplicity and lightness to the room.
Thanks to its 60×60 coordinated pavement available in the same three colours, you can design rooms with a continuous tone on the floors and walls throughout the house.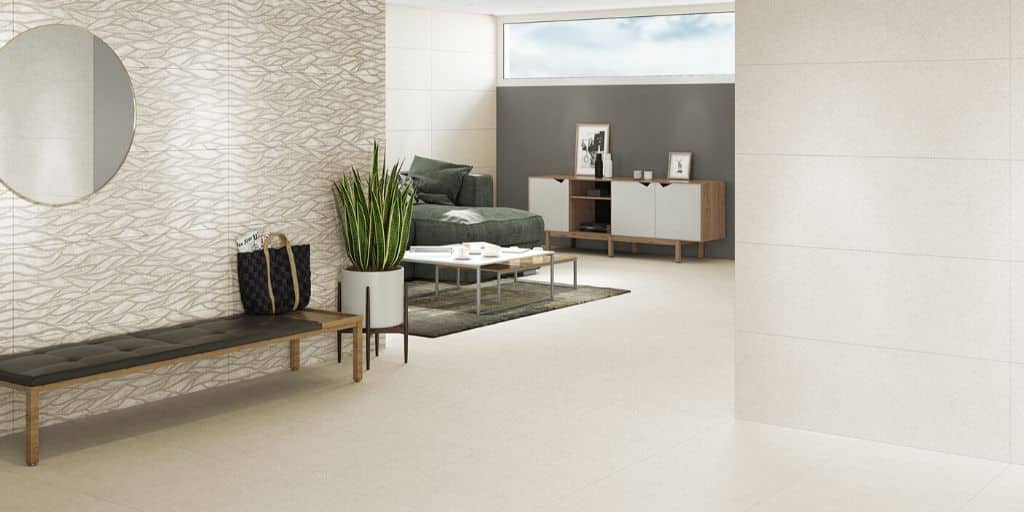 Materia Collection
For the most minimalist interior designers, we present the Materia collection in 30×90 coating, rectified with a matte finish. It is made with 3 neutral tones–BONE, GREY, and SAND–and two decorative reliefs–FIL and TRAIL.
It imitates a very soft cement, where there is hardly any high contrast, to achieve continuous walls with a light texture provided by the cementitious graphic and the slight relief of the ceramic base.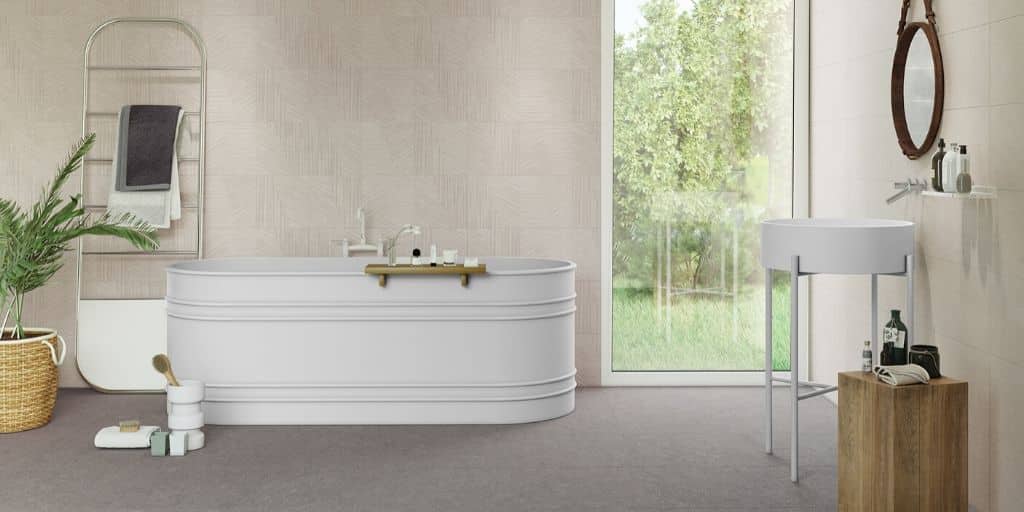 The Trail relief is focused on creating very light spaces where the decorative elements are the true protagonists of the space, while the Fil decoration aims to decorate entire walls, as if it were a canvas. With the help of shimmer granules, you get a glossy/matte contrast that highlights the colours of the piece.
It is a collection that you can combine with neutral cement-type flooring, such as our Transit collection, or with ceramic wood flooring, such as our Delhi series.
Akila Collection
The trend of metal in the world of interior design is always present, and for lovers of this style, we propose the Akila collection. It is a risky bet due to its innovative lapped effect, with which we get spectacular metallic reflections. Depending on how it reflects the light, the pieces create glimmers with linear shapes that continue between pieces.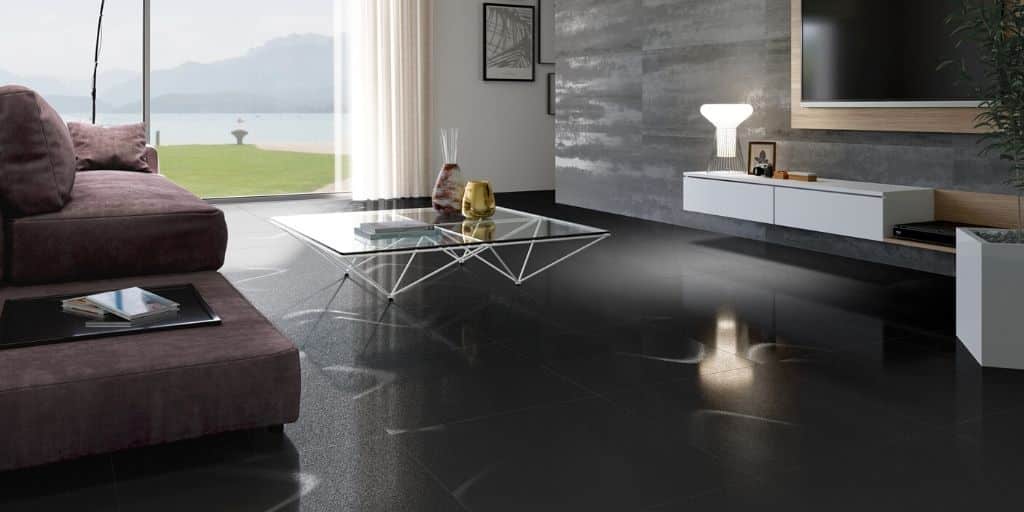 We present it in 60×120, 60×60, and 30×60 porcelain, all of them rectified with a lapped finish.
It is a palette formed by 5 metallic colours that will surprise interior designers with their versatility when combining them with other materials or ceramic finishes. Colours such as GRAPHITO, BLACK, WHITE, BLUE, a navy blue, or WINE will make your rooms super modern and unique.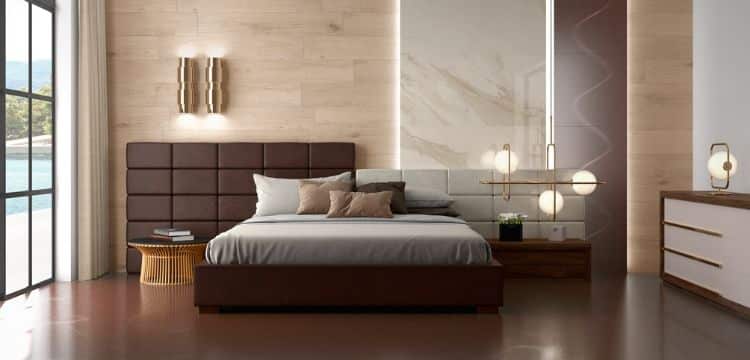 Gobi Collection
It is a series designed with love, because it is inspired by the tastes of our land. The stone design is based on stones taken from the beaches of the Mediterranean Sea, which we photograph and work digitally to create a series with low contrast, maintaining the graphic richness of these stones.
The 4 tones represent the different shades of these stones that can be found in the rocky beaches of the east, GRAPHITO, GREY, ICE, and TERRA.
To cover floors and walls, we suggest the 60×120 and 60×60 formats in rectified matte porcelain. With the help of digitally applied gloss inks, we enhance the cobbled effect of the pieces.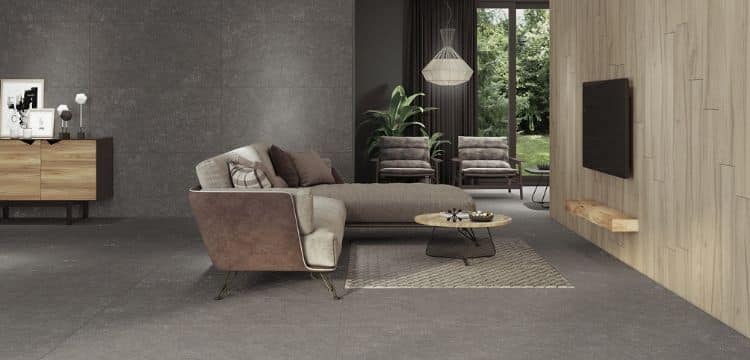 For coverings, we have created a wide range of décor to reach different audiences depending on their decorative tastes. For the less daring, we have designed the DUEL relief, with straight lines and the same tones as the bases, to subtly decorate without overloading the spaces.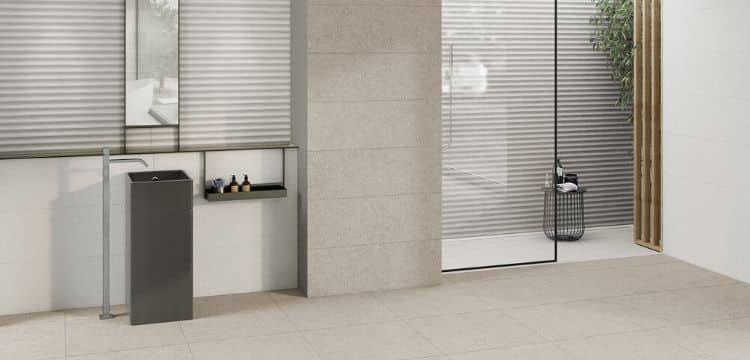 Naturalists will love the LEAF relief, which is inspired by olive leaves, for creating walls with hanging leaf curtains. And if you want to add a touch of colour, we recommend the GARDEN décor, consisting of two pieces, representing authentic green gardens.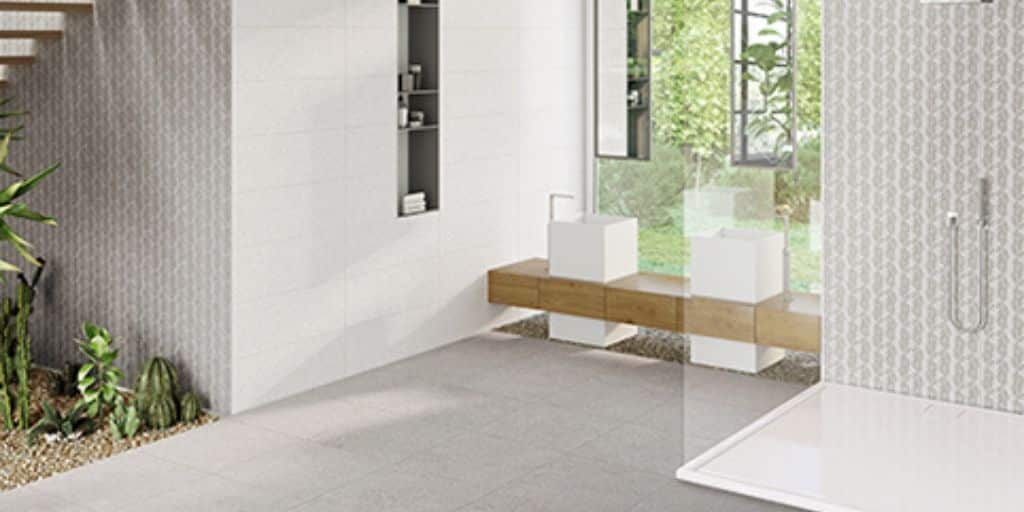 The Gala décor reminds us of the designs of ancient ceramics, adapted and created with the new technologies, allowing for vertical and horizontal placement, and thanks to its design, continuous walls can be achieved with almost invisible joints.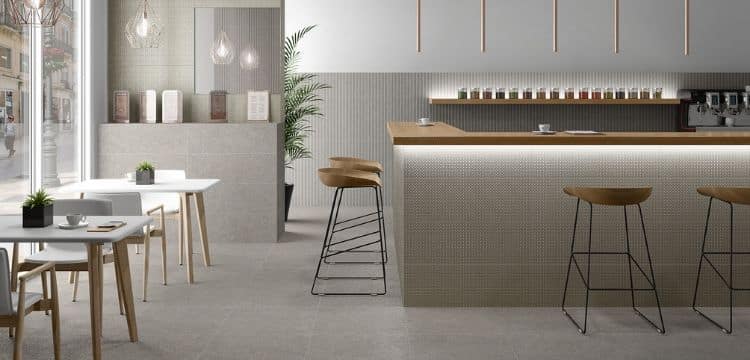 Stoneage Collection
Stone finishes and textures never go out of style, and with new relief and ceramic effects, we have achieved increasingly natural finishes.
The STONEAGE collection is presented in various formats to adapt to different markets. In porcelain, we offer it in 60×120, 60×60, and 30×60 formats in natural, lapped, and non-slip finishes. It is a very complete collection focused on design consulting, since you can cover such diverse spaces, such as interiors, exteriors, façades, furniture, etc. with just one design, complying with the construction regulations of each market.
The colour palette is made up of 4 shades. The "Graphite" colour stands out, since we have seen that contrasts and dark tones are returning to décor magazines, and with the right lighting, they are able to create very cosy spaces.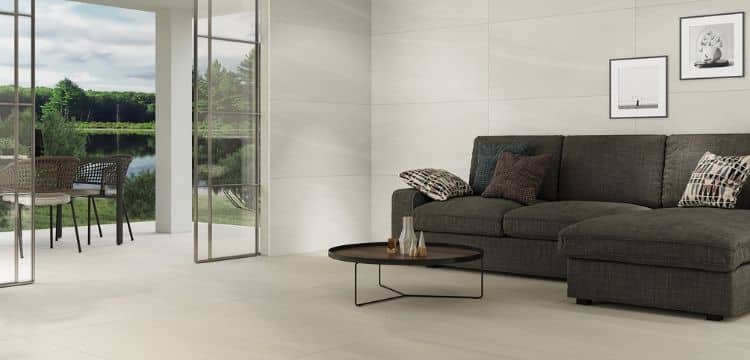 For wall coverings, we suggest the collection in 40×120 and 30×60 format white-paste tiles. Both formats come with a matte and rectified finish, with a feeling that reminds you of natural stone with its warmth and texture. We suggest two decorative relief tiles to customize the rooms–the STRAP relief and the KIT relief–reminiscent of traditional decorations adapted to current tastes.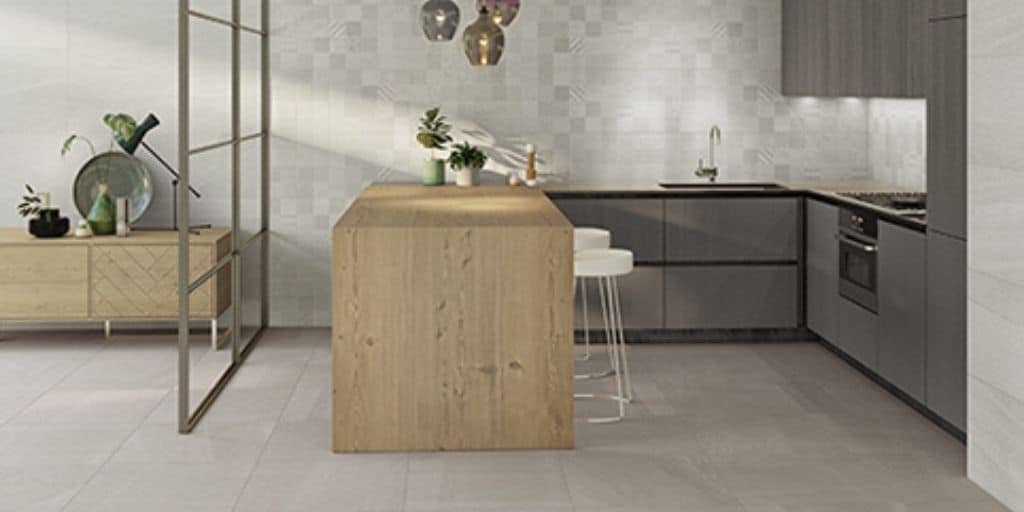 Bay Collection
It is inspired by authentic Azul Bahía marble from Brazil, which reminds us of the depths of the sea with its unique blue tones.
The collection consists of 3 colours, BLUE, which represents this marble as we find it in nature, SILVER, and GREY. These are two neutral tones that represent original stones, since they cannot be found in nature. We have developed the 60×60 and 60×120 porcelain series in both a lacquered and a matte finish. It also comes with special feature–both finishes have a very subtle shine effect, giving it a matte/gloss contrast that makes the pieces look like true, natural stones with all the advantages of ceramic material.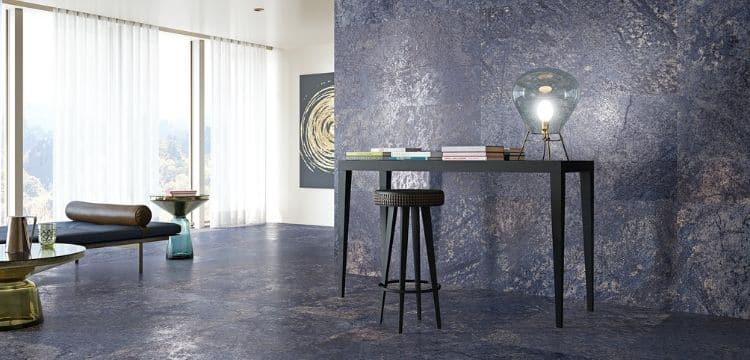 Nebula Collection
It is inspired by Orobicmarble, which we are seeing so much of in the latest fairs and decoration magazines. We have developed it in three shades: first, the BLACK colour, the darkest tone of which we wanted to maintain the richness of natural marble tones, so that the marble can be reproduced in such a way that, when touching the ceramic pieces, they seem like genuine natural stones. And the SILVER and GREY tones are adapted to the tastes of the market, always maintaining the richness in the graphics of this wonderful marble.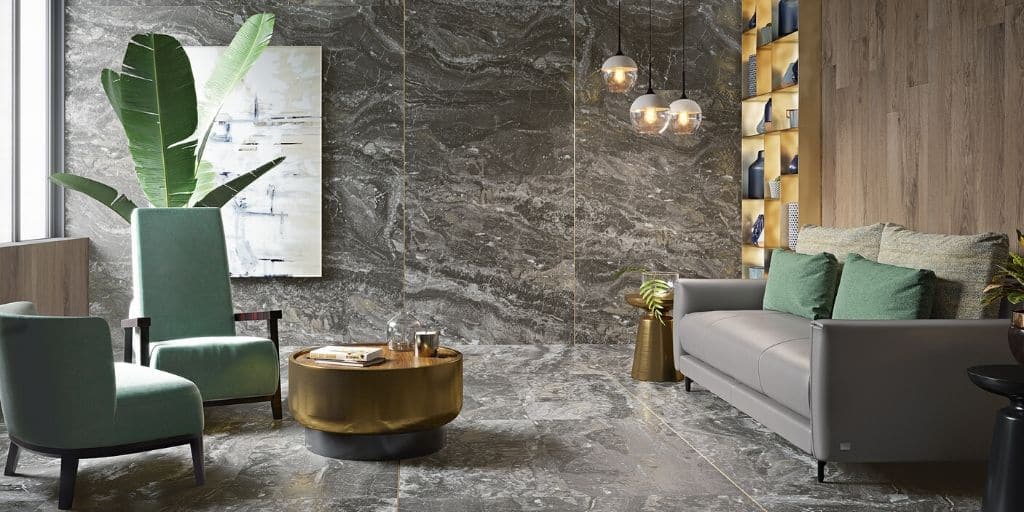 We present our porcelain in 3 formats–60×120, 60×60, and 30×60–all of them rectified and with two finishes–lapped and natural. We uniquely use gloss inks on the veins in both finishes, providing more realism to the ceramic pieces.
In the rectified 30×90 coating, we present the same three colours in a gloss finish accompanied by the GRILL decorative relief, with which you can create walls with a cobbled appearance, a finish that is widely used in decoration to embellish luxurious and refined spaces.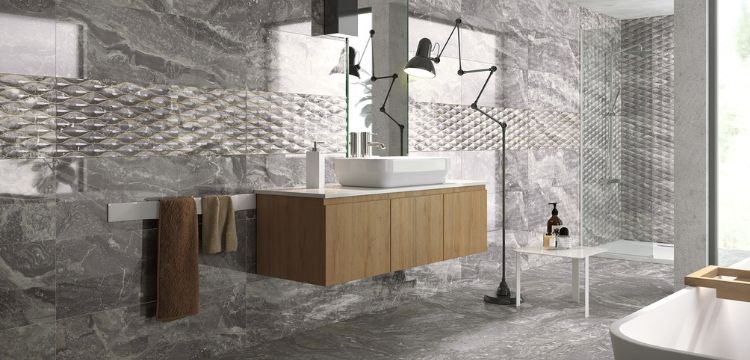 To customize these rooms, we have designed various decorations to suit our customers' different tastes. The NINFA decoration is designed based on the Grill relief to enhance the cobbled effect, thanks to metallic inks.
The NECTAR décor is a set of two pieces reminiscent of tropical elements treated with metallic effects–ideal for classic designs, but with a modern touch.
Or the BOISSERIE décor, with the matching base and moulding, which brings us back to the traditional design and placement of stately spaces.