The PANTONE 2020 color is a trend setter! This year, fashion and interior design are loaded with a lot of BLUE, the color chosen to create the new design trends of 2020.
Do you know the blue Pantone 2020 color?
CLASSIC BLUE is a strong, elegant, striking and, as its name suggests, "timeless and durable" color. Its elegance lies in its simplicity, its friendly shade and the absence of aggressiveness in sight that enhances harmony, serenity and creativity.
If there is one thing that characterises Classic Blue, it is the impression of homeliness that comes together with the feeling of peace and calm that it conveys to the human spirit. A feeling of shelter. A color that does or must become part of your home.
This 2020, we see the color of the year in all kinds of disciplines: fashion, art, design and home, and even lifestyles!
But where does this feeling come from?
Although identified as cold colors, blues help concentration and bring balance to the mood. This is why it is a color that is perfectly suited to bedrooms, living rooms and offices.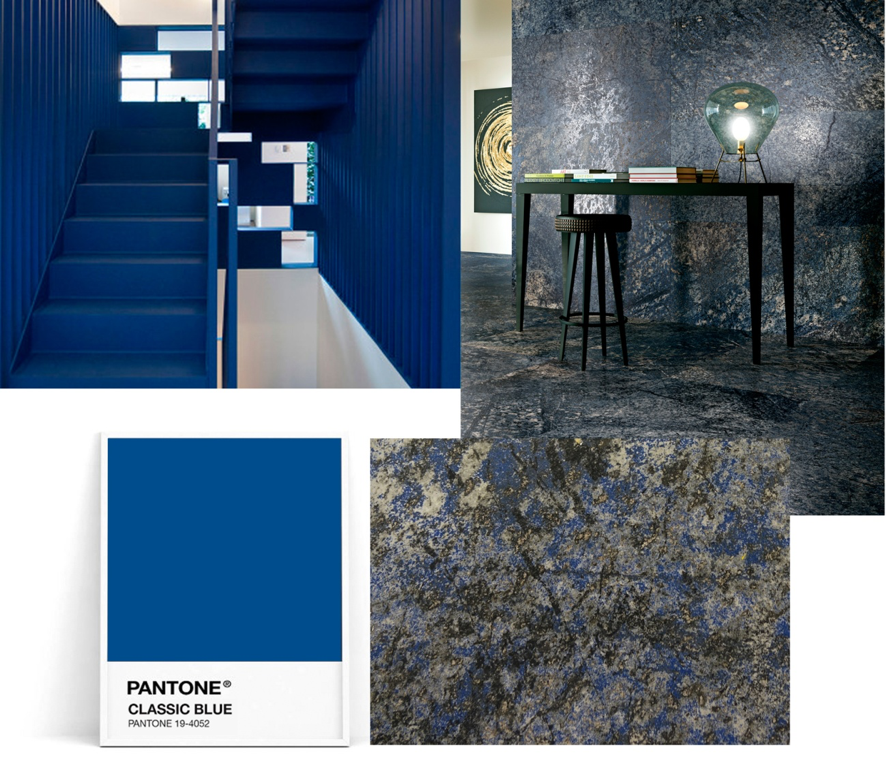 How can Pantone blue 2020 be integrated into interior design?
Here are our proposals for integrating the color of the year into interior design and creating different styles. Pantone Blue 2020 is perfect for designing interiors that are reminiscent of the neoclassical style, but at the same time provide a modern and contemporary luxury point of view.
To make blue stand out in all its magnificence, it is best to combine it with white and a range of neutral colors: gray, beige, off-white… How? Add a few hints of pastel, beige or brown colors in accessories and fabrics. You'll get the perfect balance.
This integration of blue with different more neutral elements will help you find serenity and calm your mind.
If, in addition, you want to achieve a warmer and more welcoming atmosphere, the best thing to do is to add wooden elements (in all its shades, lighter or darker). This combination is a wise choice for bedrooms.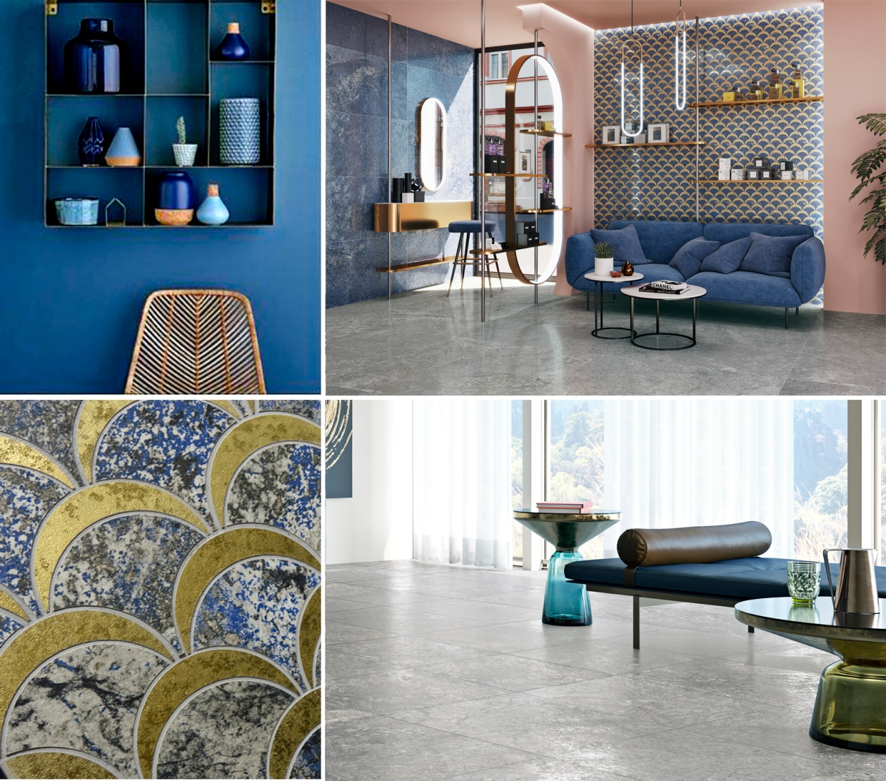 Are you passionate about retro style? A touch of contrasting color with a bright yellow or mustard, or some vintage accessories, will achieve this retro look. One of the most successful trends this 2020.
If, on the other hand, you're not afraid of change, you're daring and it's time for a total renovation of your home, you can be inspired by our Bay Collection. An original stone presented in three natural colors: Blue, Silver and Grey.
The Bay collection also comes in two finishes (lappato and matte) with a special feature. Both finishes have a subtle glossy effect, with which we achieve a game of matte/glossy contrasts in pieces that look like authentic natural stones with the advantages of the ceramic material.
From Azteca we hope to have inspired you and helped you to know how to integrate this shade in your home. We are sure it will look great and very stylish!