If you are tired of the look of the walls in your home, we suggest an idea that you are guaranteed to like…
Forget about smooth walls and give your home a fun and original look!
Decorative ceramic pieces are a design element that provides endless possibilities for dressing the walls of any spaces and they make it possible to add a touch of movement and joy to any space.
The great versatility of this decoration open the doors to your imagination. You can combine them in a way that best fits in with your style. With these decoration options you can create innovative visual options thanks to their varied designs, you can create any type of compositions that will add more colour and movement to your room.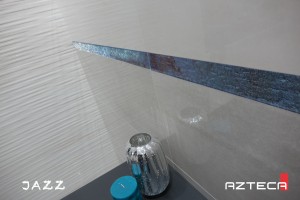 At Azteca we provide a great range of solutions. We work to search for different decorative options that are innovative and different. We help you to give your home its own unique personality…
The JAZZ collection is comprised of 3 exclusive listels and a measurement of 4×90 cm. Its different finishes: silver, gold and blue, over endless aesthetic possibilities. You can create the combination that is best suited to your lifestyle…. The gold option is best suited to the more classic tastes, it is ideal for combining with earthy colours, cream or browns (the Armony R90 & Ground R90 from the Azteca catalogue offer this solution) although it combines perfectly with any type of marble. With regard to the silver colour, we propose combining the with cold colours from the London R90 and Elite R90 series. For the most daring, the blue finish is an ideal decoration for combining with whites or more neutral colours, in this way the glass piece really stands out from the decorative series.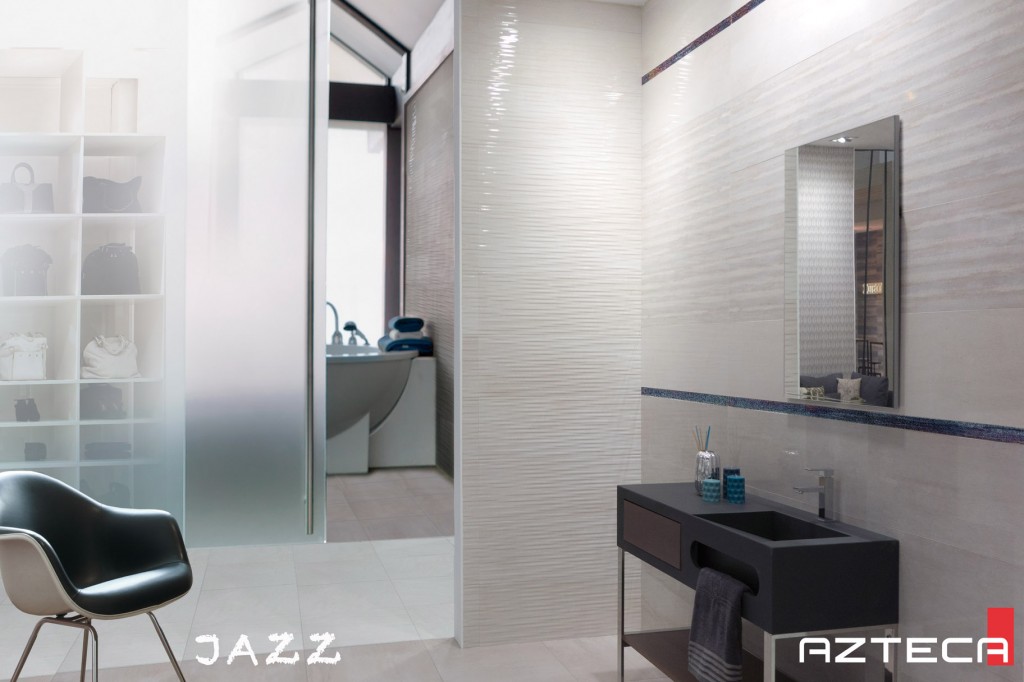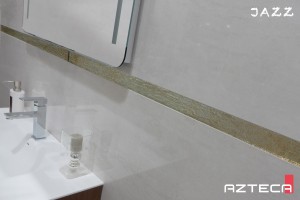 OASIS COLLECTION: This a totally innovative aesthetic concept for decorating. Current interior design is increasingly opting for small format pieces that are of great decorative value.  Azteca offers the Oasis collection in a 10×20 cm format. It is a decorative series comprised of several pieces with a shiny finish and up to 9 different and traditional reliefs inspired by traditional ceramics.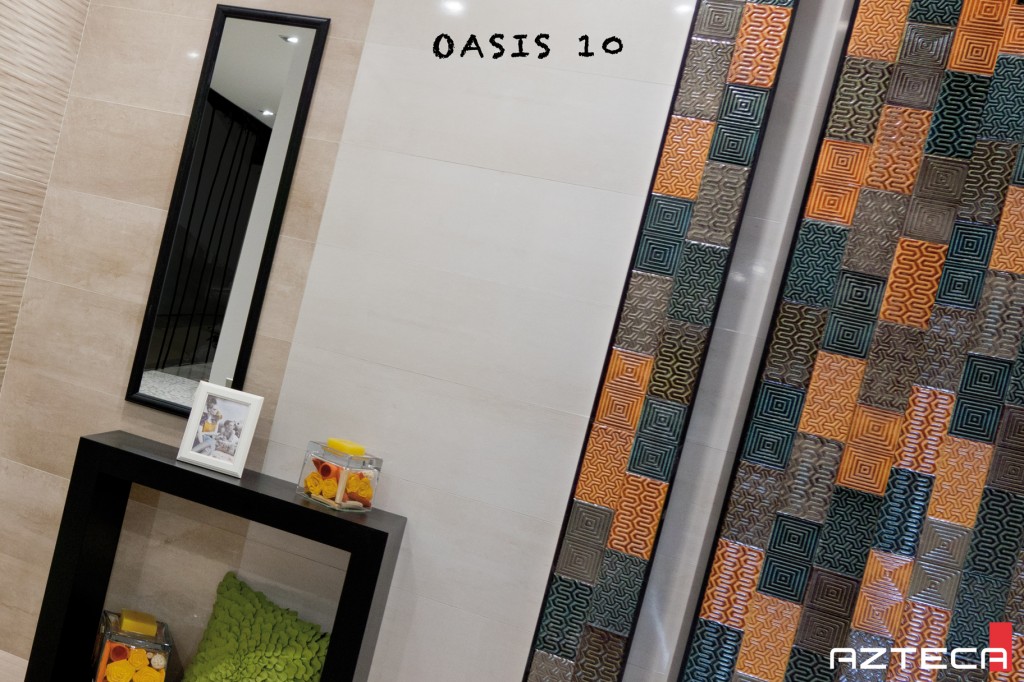 There are two colour versions, one in cold tones with blue and silvery colours and other version in warm tones with a wide range of oranges and greens. Our recommendation is to combine this collection with series in a matt finish (for example the Armony, Elite and Minimal options from our catalogue.)  In this way you can manage to create a contrast where the special shine provided by the decorative pieces stands out spectacularly. Also, for those with more conservative tastes, we invite you to see the elegance provided by combining this series with any collection with a shiny finish.  The London and Ground series in shiny and stony finishes are successful combinations from the Oasis collection.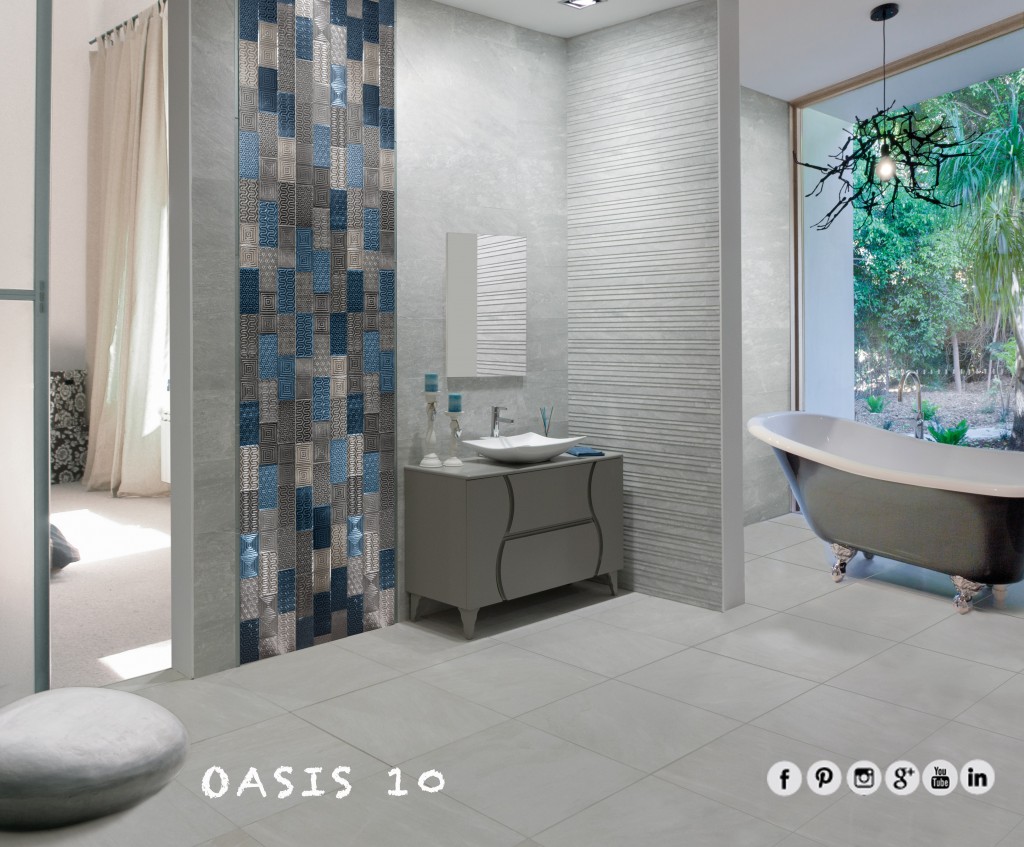 Azteca provides endless solutions so that your home looks attractive, bright and elegant…. you only need to choose the decoration you like the most and give your home that personal touch.
At our website you can find lots more decorative options.
We invite you to check them out.