Today we want to help you with one of the most important decisions when it comes to carrying out renovation work on your property, namely, the difficult task of choosing which paving you are going to use.
It is necessary to bear in mind that paving is one of the elements that adds the most personality to a space therefore its aesthetic is important, however it is also one of the things that suffers the most and it may deteriorate through use and the passing of time. Years ago you had to choose between aesthetics and durability, however advances within the sector's production processes have made it possible to bring together these two characteristics therefore you only need to choose the size, colour and finish that are best suited to your style and tastes.
It is also true that you do not need to choose a single model for the entire home, as the paving can vary depending on the room that you are going to renovate.
Among the different types of paving found on the market, porcelain paving stands out for its great technical qualities. It is characterised by its toughness and resistance, it is also perfect for fitting either indoors or outdoors due to its low absorption of water and its easy cleaning.
There is currently a large variety of designs and textures on the market, and an extensive range of colours.
At Azteca, we are going to show you lots of different products so that you can choose the one best suited to the look and needs of your property.
-Natural designs such as wood: The Exotic collection perfectly fits in with current market trends. It is a wild wood with two types of attractive finishes, one is Lux and the other is natural, with a relief that simulates the grain and irregularities of wood. It is available in three colours: White, Cream y Brown and in a 24x100cm format.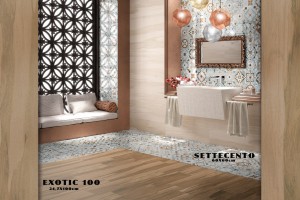 The great length of the slats makes rooms extraordinarily beautiful, thanks to the stylised paving and multiple types of fitting. We always advise fitting this type of product locked in a maximum of 20%.
It offers all the warmth of wood, but with the durability and easy cleaning of ceramics.
– Stone finishes. Always so contemporary, as natural trends are always on the mind of designers and interior decorators. For this reason, the Eros collection in 45x45cm format is inspired by sandstone with a striking graphic and shade on each piece in order to recreate the reality of nature. A cotto tile does not go unnoticed, its maxim is design. Shades and sfumatos combine perfectly together.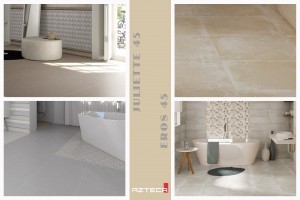 This type of paving is an excellent choice for intensifying style, and turning the floor into the star of your room.
-Hydraulic tiles: The Settecento collection is inspired by the hydraulic tiles from the end of the 19th century. It is available in a 60×60 format and with a Lux finish, it will fill the floors of the most cutting-edge homes with a bold elegance and harmony.
– Motifs inspired by textiles are returning to homes with an updated look… Juliette 45 has been creating using a real fabric. This feminine and very subtle collection is available in three colours: white, earth and grey and it is accompanied with geometric décor that adds a different touch to your home.
– Magnificent work and application techniques have been used to achieve the really distinguishing effect of series such as Smart Lux 80. Presented in a large 80×80 cm format and in a rectangular 40×80 cm format. Combinations of metallic effects in black and white create luxurious and sophisticated spaces.
Which type of finish is best suited to your style and home? At our website you can find lots more options and finishes, discover them!