If we are talking about elegance and resistance in floors and walls, marble-effect porcelain stoneware is the right choice. From Ancient Greece to the present day, marble is a material with great decorative potential that fills any room with exclusivity, whether it is a living room, a bathroom, or a kitchen. 
To the attractiveness of the designs created with marble-imitation ceramic floors and walls, we can add the many benefits of ceramics such as its resistance to extreme temperatures, shocks, or chemicals. 
At Azteca we love the distinction that marble brings, and, for this reason, we have a wide range of porcelain stoneware and white body collections with marble effect. Let us introduce them to you: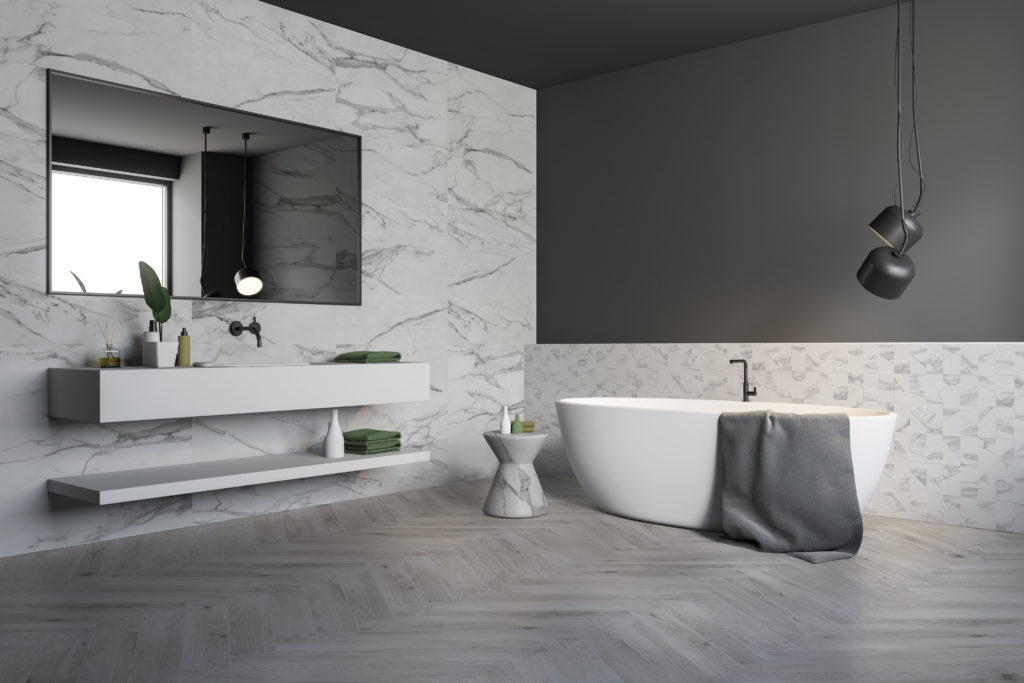 Marble is still shining in all its glory, especially in shades of white. White shades that convey a feeling of peace and relaxation. The DA VINCI collection, designed in 2017 to convey the luxury conferred by a noble material such as marble and with the characteristic durability of ultra- resistant porcelain.
5 porcelain formats 60×120, 45×90, 22.3×90, 60×60, 30×60, all of them in lapato finish and rectified.
The new addition this year is the 30×90 white body in gloss and matte finishes, accompanied by a beautiful relief in each of the finishes.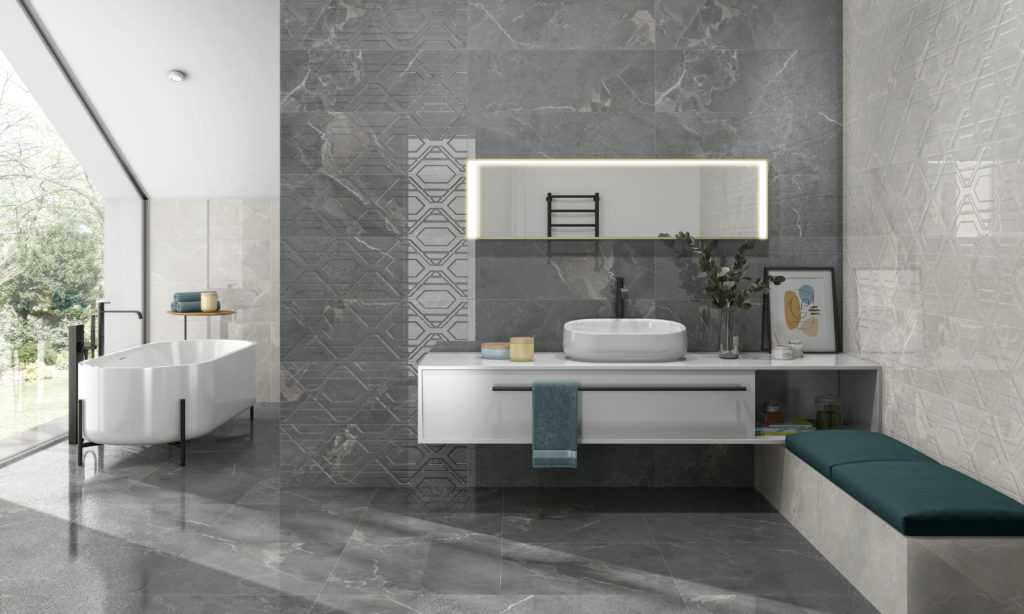 It is an original grey marble called "Fior di Bosco". Its sober background mixes lead and smoke tones. It contains a burst of very fine, arborescent veins that alternate between white and amber.
The series is made up of 4 colours: the original marble colour (graphite) and three more colours–ice, grey, and taupe.
All of them come in 60×120, 60×60, and 30×60 formats in a lapped and natural finish with glossy streaks to maintain the naturalness of the stone.
We complete the series in wall coverings in 30×90 gloss format, accompanied by a modern relief to embellish the series. This relief is available in the four colours of the collection, as well as a combination of them, to decorate any space, providing majesty and elegance.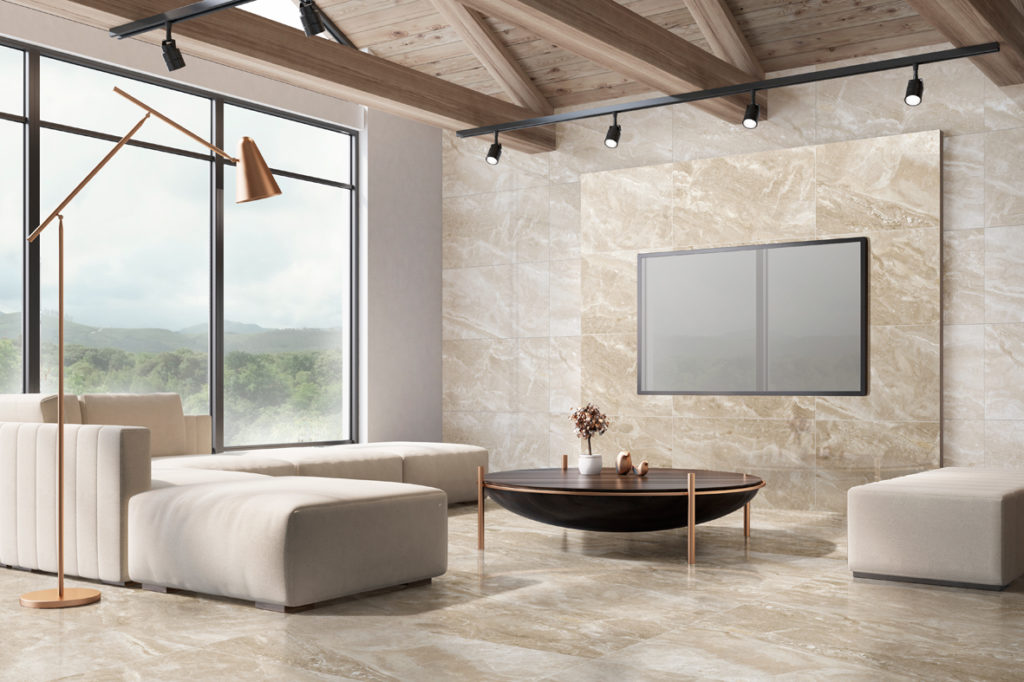 Fontana is an already established Azteca collection that has grown over time, expanding until it just had to include the 60×120 format lapped porcelain. "Character" would be the defining word for the environments created with Fontana.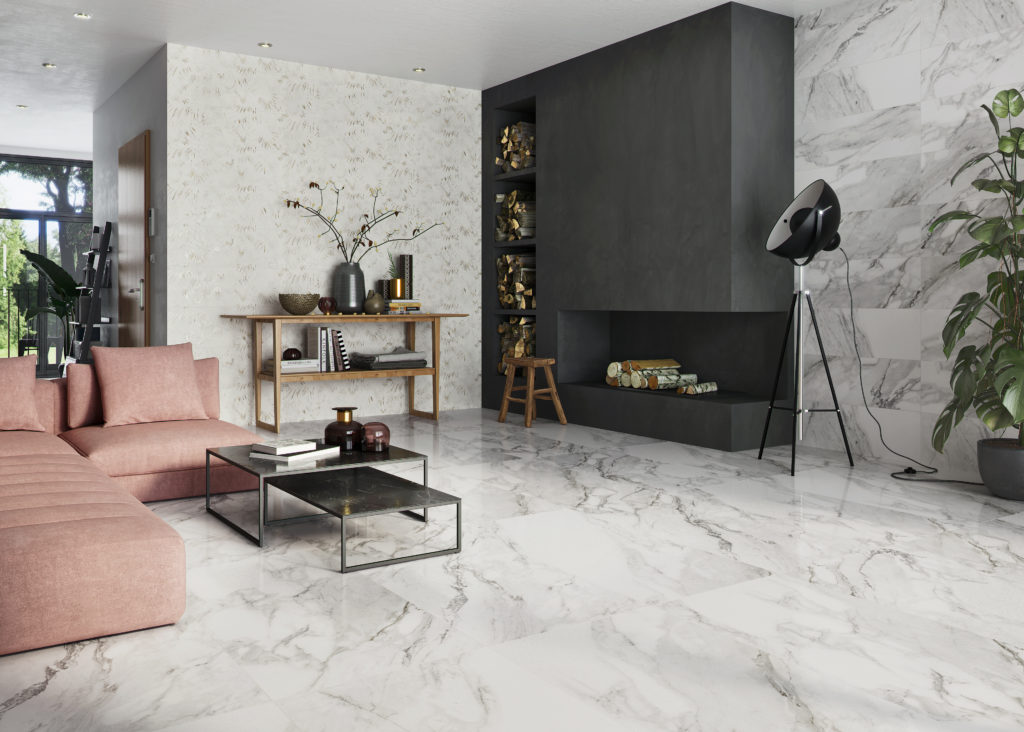 Inspired by the "Macchia Vecchia" marble, itself, with its white background with golden veins and the characteristic touches of grey and beige. It is a material that suggests settings of the highest luxury and majesty.
It is available in two colours: Gold and Silver. The Gold version maintains the very characteristic original orange vein of this marble, but it is also presented in silver for lovers of the classic calacatta marble.
Regarding the formats, the porcelain is presented in 60×120, 60×60, and 30×60, in Natural and Lapped finishes. To accompany the flooring, a 30×90 matte white combinable paste has been developed, from which you can choose between gold and silver or opt for a more ground- breaking option, like the Palm decoration, in which tropical palm trees appear and disappear.
The DOTS R90 decoration in rose, pearl grey, and white colours adds a modern and ground- breaking touch to marble, focused on the "New Traditional" style.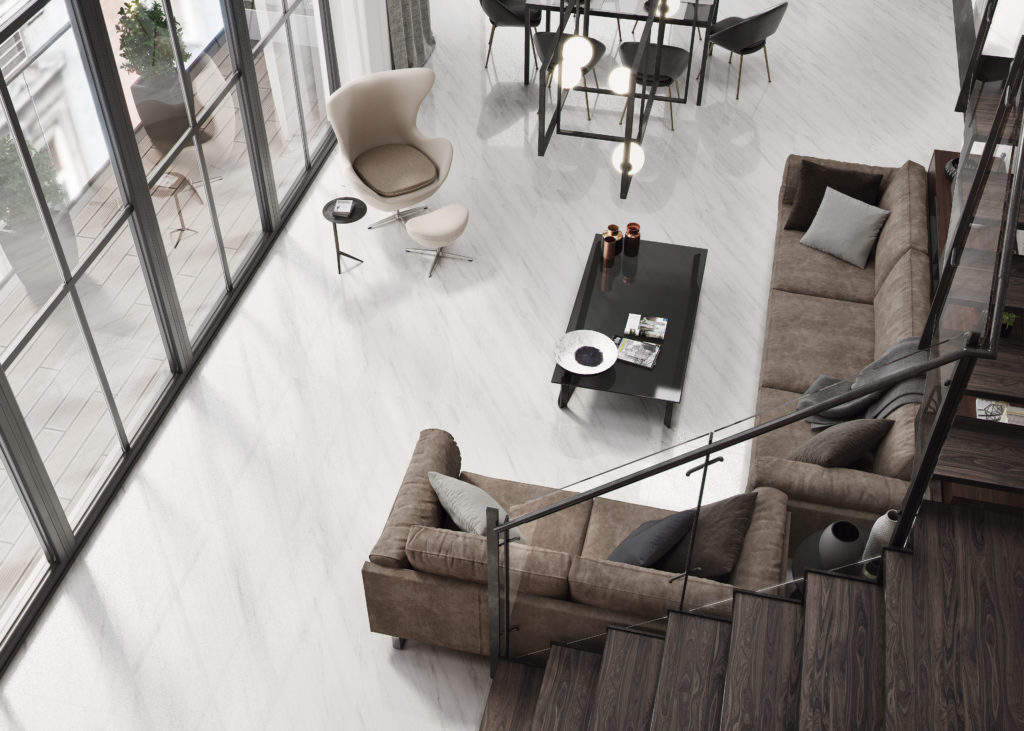 From Greece comes the inspiration to create the Snowy collection. It is a collection based on white Dolomite marble, with its slight greyish streaks that mimic the almost mystical brightness and luminosity so characteristic of this famous material.
Collection of rectified and lapped porcelain tiles in 60×120, 60×60, and 30×60 formats to provide light and spaciousness to any space.