Summer is just around the corner and, as warm days arrive, we feel even more enthusiastic about good weather and sun.  So, it is the ideal moment to prepare our terraces, patios or gardens.
The three key factors we have to consider when renovating our decoration or starting from scratch are: location, aesthetics and easy maintenance.
However, we can also choose wonderful indoor terraces which can be used as a source of natural light, to divide spaces, communicate rooms or simply because we feel like it!
Before remodelling or decorating our outdoor space, it is important to take into account the amount of square meters that we have. Therefore, if our terrace is small, we will choose versatile and proportioned furniture and small plants and flowers placed in a strategic way to visually enlarge our space.
Natural evocation is still quite present in terrace decoration. We will use natural materials such as rattan, wood, bamboo and wicker (that has an important place in this year 2016 trend) in order to transmit that peaceful and balanced sensation related to earth and roots.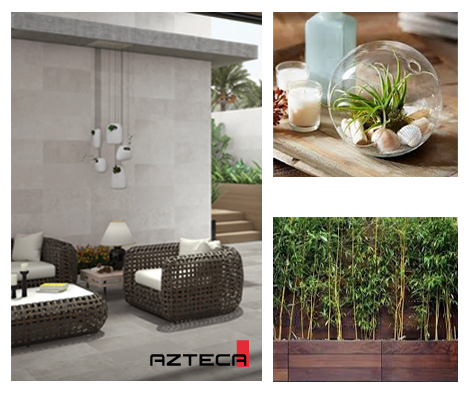 With this same goal, there is a tendency of designs that open to nature, making the views as part of the terrace. In accordance to this tendency, we look for inspiration in natural environments so that the sea, the coast and the vegetation can be found in the colours and the shapes.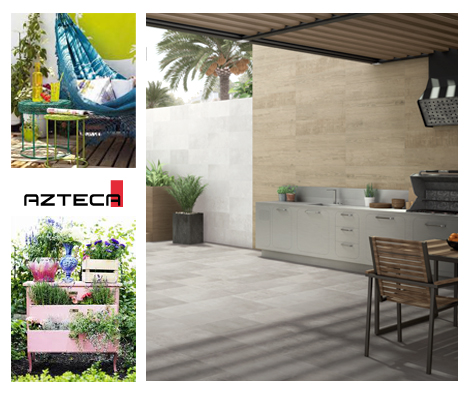 Azteca has a lot of experience in terrace coating and paving. Thee Stucco 3060NR series is presented is two formats, 30x60cm and 60x60cm. It has the right earth tonalities that give a special charm, transmitted by perfectly integrating them into a natural frame, but also elegant and cosmopolitan.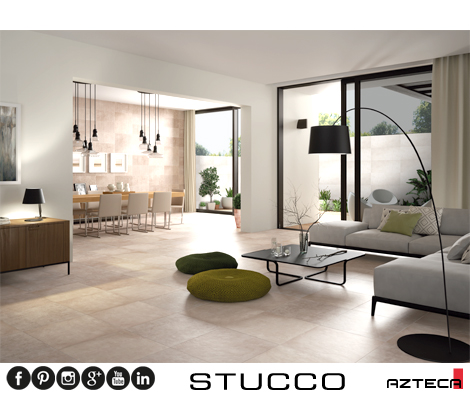 This series is made of porcelain tile that, thanks to its technical features, is perfect to use outdoors. These ceramic coatings and pavings are synonym of durability, aesthetic beauty and easy maintenance.
If you visit our website, you will not only see this option, but many others that will surely help you make this hard choice…Visit us and enjoy!