Embossed tiles are an ideal choice for those looking to add texture and depth to their walls and floors. Reliefs can be subtle or dramatic, depending on style and personal preference. In addition, natural and artificial light reflects off the reliefs creating an effect of light and shadow that brings any room to life.
Embossed tiles are available in a wide variety of colors, sizes, and shapes. Here are the most popular Azteca designs:
Embossed tiles for every style
Conveying peace and serenity we find the Dunes relief. Simulating fine sand dunes, it achieves that feeling of calm so desired in any home. Its success is such that it is already present in three of our most successful collections: Armony, Unik and White.
Simulating small dunes, but this time much tighter together, we highlight the Vals relief. Present in the Calacatta and White collections, it conveys calm and freshness. A perfect relief for kitchen and bathroom design.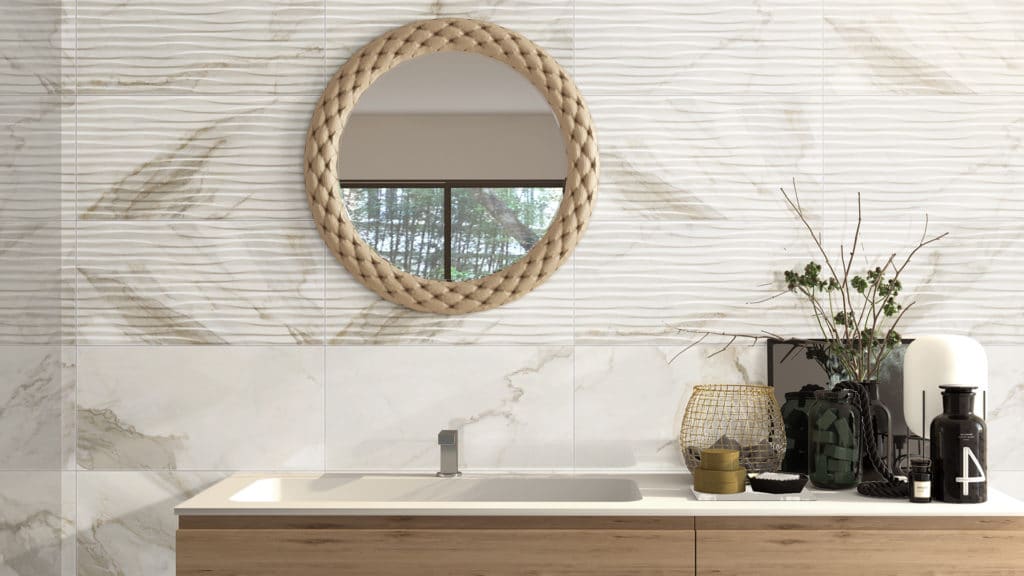 In turn, the tiles with Plane reliefs present a much more linear design. Characterized by fine horizontal lines simulating freehand drawn strokes, it creates a subtle and bright atmosphere. Its naturalness is perfect for any room. It can be found in the stone imitation tile collections Bellver and Toscana.
In the same style of linear reliefs, the Lot relief is a winner. Although this time it is short vertical lines that offer a greater sense of height and breadth of space. As if it were an elegant fabric, this relief, ideal for wall coverings, is available in the Onyx collection, imitating marble, and Shellstone, imitating stone.
Finally, we also wanted to highlight among our most successful relief tiles the Wall relief, which simulates a brick wall, but with the advantages of ceramic and its different designs. Inspired by tradition, we can find it in the Calacatta marble imitation ceramic collection and in the Aneto and Vincent Stone stone finish ceramic collections. A super versatile relief.
But that's not all! In addition to these reliefs, each of our collections presents its own and customized reliefs in which you can find many more options of all styles. Contact us and we will inform you about all of them.