Anti-slip outdoor flooring is the only option on the market today that can guarantee total traffic safety in outdoor areas such as porches, terraces, swimming pools and their surroundings.
Because of their exposure to inclement weather, the outdoor areas of our homes and public facilities need to have a anti-slip ceramic floor to ensure their safe transit.
In AZTECA, in order to avoid slips and accidents so common in the domestic and public areas, we manufacture anti-slip tiles for floors, adapting them to all types of decorative styles.
Always following the latest in decoration, at the last CEVISAMA fair we saw a strong tendency to integrate the interior floor with the exterior floor, achieving a perfect continuity in atmosphere and style.
Because of this continuity, it is very important that the floor be anti-slip to avoid suddenly encountering a slippery floor.
At AZTECA we recommend that the anti-slip exterior flooring should have the minimum degree of porosity possible, which is why we consider anti slip porcelain tile to be the most suitable for exterior flooring.
Anti-slip porcelain tile for swimming pools
Anti-slip porcelain tile flooring is essential and necessary for swimming pools and their surroundings due to the great resistance and durability that porcelain tile flooring offers when exposed to water.
Manufacturing this type of tiles allows us to play with a great variety of designs and styles that can be adapted to any type of environment.
Rustic anti-slip exterior flooring
At this year's Cersai ceramic fair 2022, we observed a wide variety of anti slip porcelain tile designs for swimming pools.
This type of anti-slip floors can be adapted to any type of environment, being the rustic tiles for outdoors, the ones that create trend.
Anti-slip outdoor terrace floor
To avoid accidents, as expert outdoor flooring manufacturers, we recommend our customers to always use anti-slip outdoor flooring.
The roughness level of the surface of the ceramic exterior floor has the function of preventing slipping.
Depending on the needs, our customers can choose between 3 degrees of anti slip floor tiles: 1 being the lowest degree of slipperiness and 3 the highest degree.
Therefore, the anti-slip grade will determine the surface roughness of the anti-slip floor, taking into account that grade 1 will have the smoothest surface and grade 3 will have the roughest surface.
Therefore, anti slip treatment for outdoor floors is necessary to provide safety and peace of mind when walking on the same floor regardless of whether it is indoors or outdoors.
At AZTECA we extend anti-slip flooring to interior rooms, especially in bathrooms and kitchens where humidity and water are a constant.
The great versatility of the anti slip porcelain floor, allows to create any desired atmosphere in the terraces of our homes and establishments, decorating by itself with very good taste.
By extending the anti-slip large format rectified porcelain floor from the living room to the terrace, we will achieve a greater sense of breadth and depth.
We will enhance these sensations by tiling the walls surrounding these anti-slip indoor and outdoor floors with identical large-format rectified porcelain tiles.
It is very important to highlight the current trend of extending the floor from the interior to the exterior while maintaining the same ambience and style.
Anti-slip stone imitation exterior flooring
Anti-slip stone effect flooring in dark shades is a top seller.
The dark shades of anti-slip tiles on outdoor terraces or porches give a rustic touch to the decoration trend.
Anti-slip exterior wood-look porcelain tile flooring
Wood is one of the most widely used materials for outdoor flooring but, as a natural material, it has many disadvantages to keep in perfect condition when used as outdoor flooring.
This is mainly due to the exposure to water and extreme temperature changes that wood undergoes outdoors, which makes it very difficult to keep it in perfect condition.
Wood flooring needs to be treated to make it slip-resistant, which is yet another obstacle to its maintenance.
These difficulties involved in the use of natural wood as flooring are solved with the use of anti-slip imitation wood exterior flooring, hence its great success.
Therefore, due to its advantageous properties, AZTECA manufactures with great success the porcelain imitation wood for outdoor flooring.
Its impeccable result allows the pool environment to be decorated with the same warmth, simplicity and nobility that natural wood reflects.
Undoubtedly, we consider this type of wood effect anti slip tiles as essential to avoid the usual slips caused by the existence of water or humidity in outdoor areas.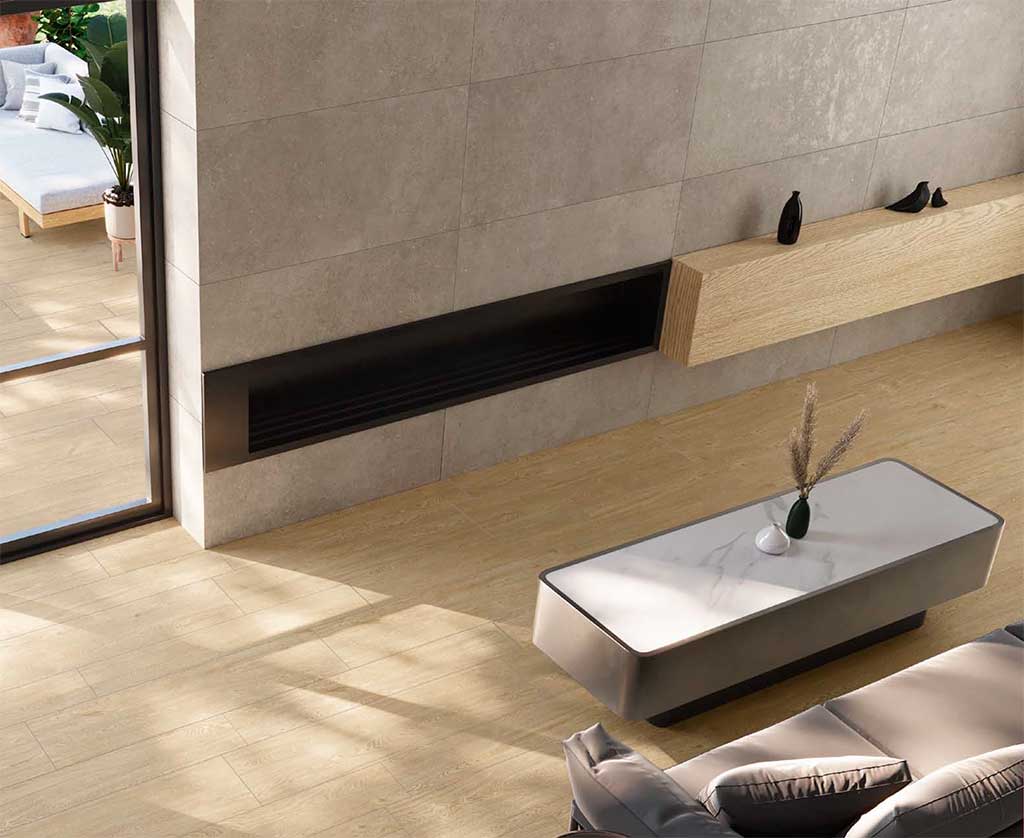 The anti slip porcelain floor imitation wood for outdoor flooring is the favorite of our customers.
This is due to its perfect result that manages to reflect the elegance, warmth and nobility of the appearance of wood, coupled with the high quality and resistance of the anti-slip porcelain tile.
Advantages of large-format rectified porcelain anti-slip floors
As expert manufacturers of anti-slip ceramics, we advise our customers to use rustic rectified porcelain tiles in large format because of their great advantages:
Porcelain tiles: for their great resistance and durability.
In large format: offering a greater sense of spaciousness and harmony.
Rectified: for its easy cleaning, which allows its maintenance in perfect condition.
Anti-slip: essential to guarantee total safety in transit.
In AZTECA, we have designed different and varied Collections of anti-slip outdoor floor tiles, with which our customers can choose the anti-slip outdoor floor that best suits their style and desired environment.