In the world of decoration, bathroom tile combinations are the most used by the best architects and designers.
In AZTECA, ceramic manufacturers with an experience of more than 60 years, we are specialists in combining tiles of all types, shapes and colors, to obtain the desired result of our customers.
Modern Bathrooms with tile combinations are trending.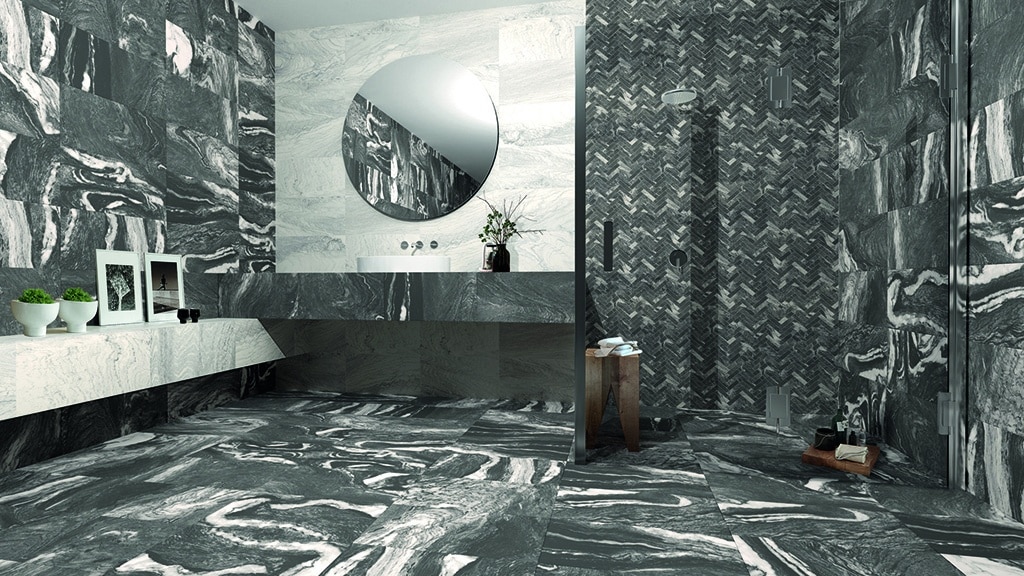 Image of modern bathroom tiles black color Domino Collection
Next, we are going to show you how to achieve that your bathrooms transmit the sensation of well-being and luxury that you desire, by means of a perfect combination of tiles.
Bathroom tile color combinations
At AZTECA we know how creative and fun you can have with bathroom tile color combinations, but you should keep in mind that it is also very risky.
The possibility of being able to achieve an infinite number of decorative styles, combining totally different tiles, gives rise to unique and original bathrooms, such as the one we show you below where the color black, so current, is the predominant color.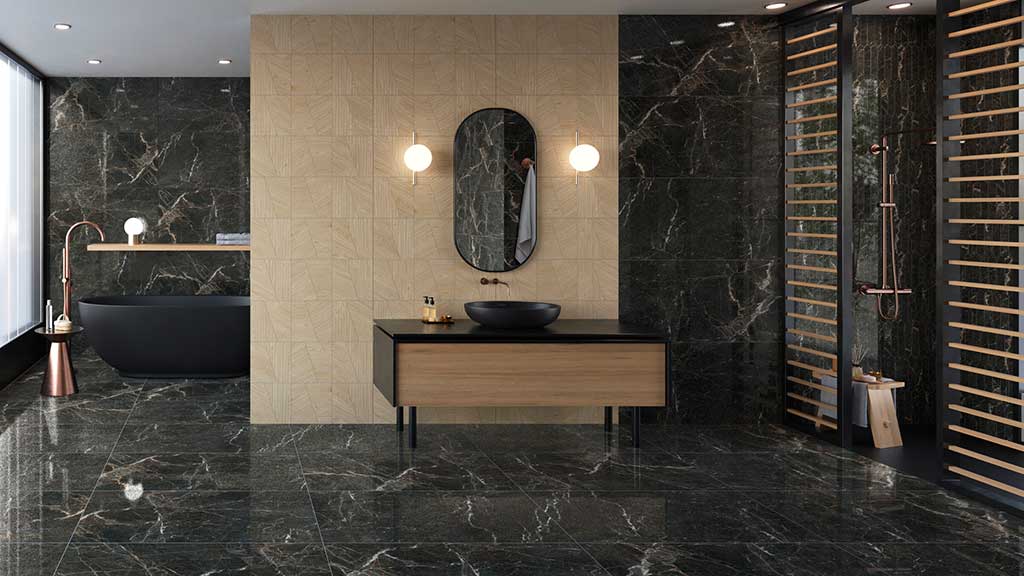 Image of black tiles for bathrooms Cervino Collection
Without a doubt, the favorite color for bathrooms is white.
The white color in bathrooms provides luminosity, sensation of hygiene, spaciousness, well-being… combining different types of white tiles in bathrooms is a guaranteed success.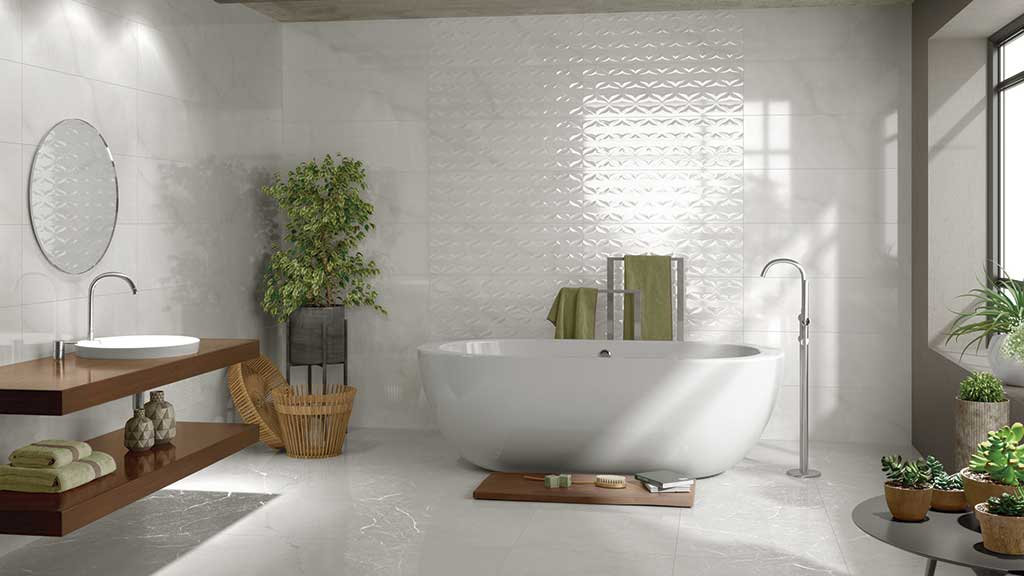 Image of white tiles for bathrooms Dream Collection
A spectacular result is achieved with a perfect harmony when combining bathroom tiles playing with black and white colors.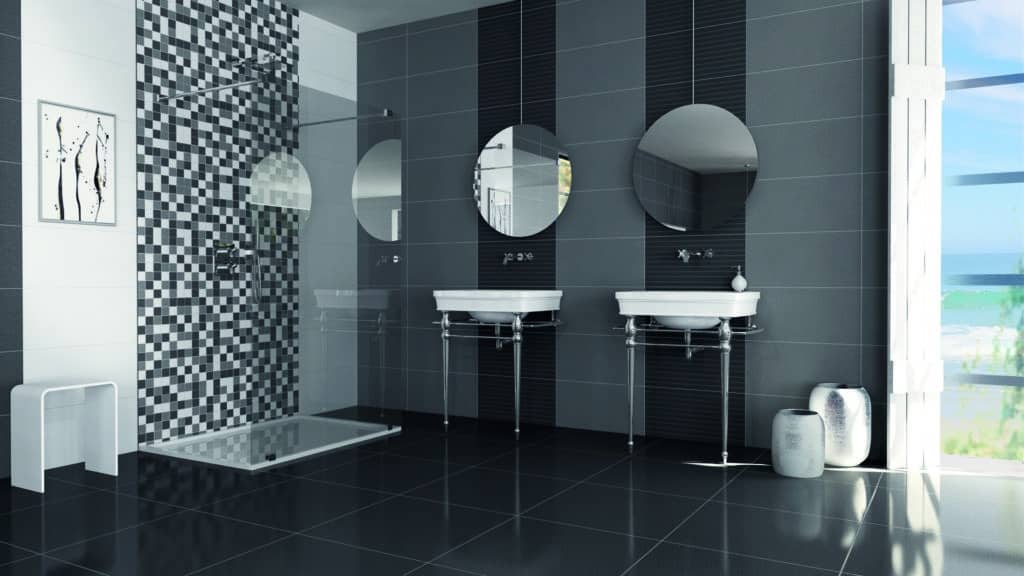 Black and white tile image for bathrooms Trinity Collection
Discreet and stylish is considered the beige ceramic in decoration.
Combining bathroom tiles of different types and shapes in beige tones conveys a sense of relaxation and good taste.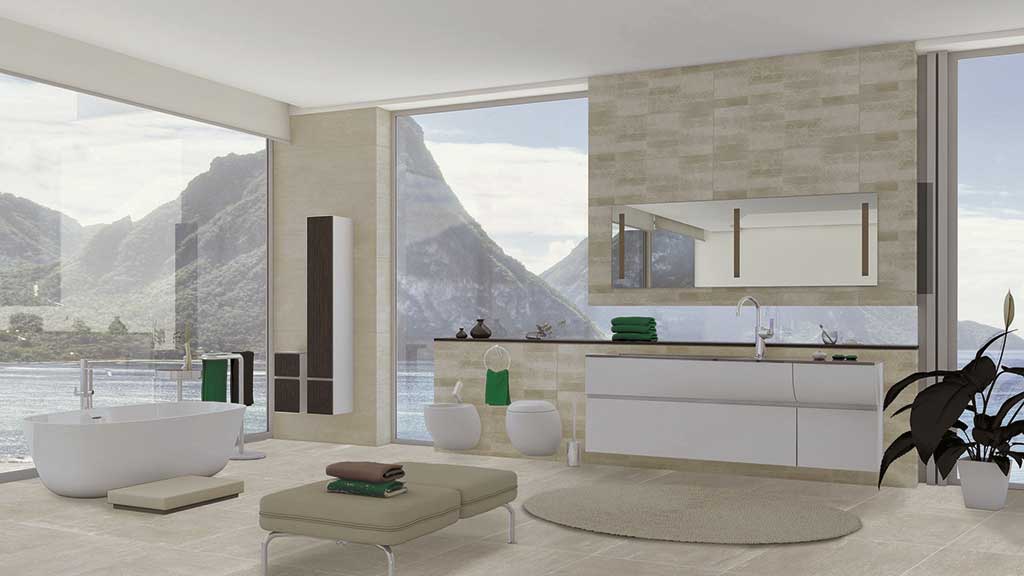 Beige Bathrooms Tile Image Ground Collection
The combination of ceramic tiles in bathrooms in beige and white tones combines the sensations that can be transmitted by the two colors separately.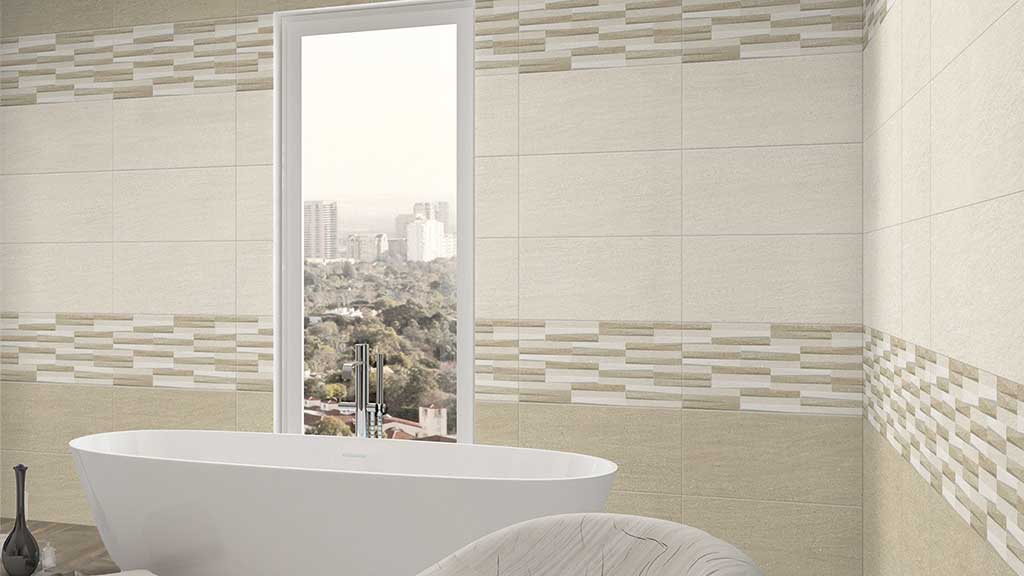 Image of bathrooms with white and beige tiles Mirage Collection
5 Bathroom Tile Ideas
Combining decorative bathroom tiles in the right way is key to achieving the bathroom we want.
A bathroom with a vintage style, luxurious, or for an elegant spa, conveying nobility…. everything can be achieved with the right combination of bathroom tiles.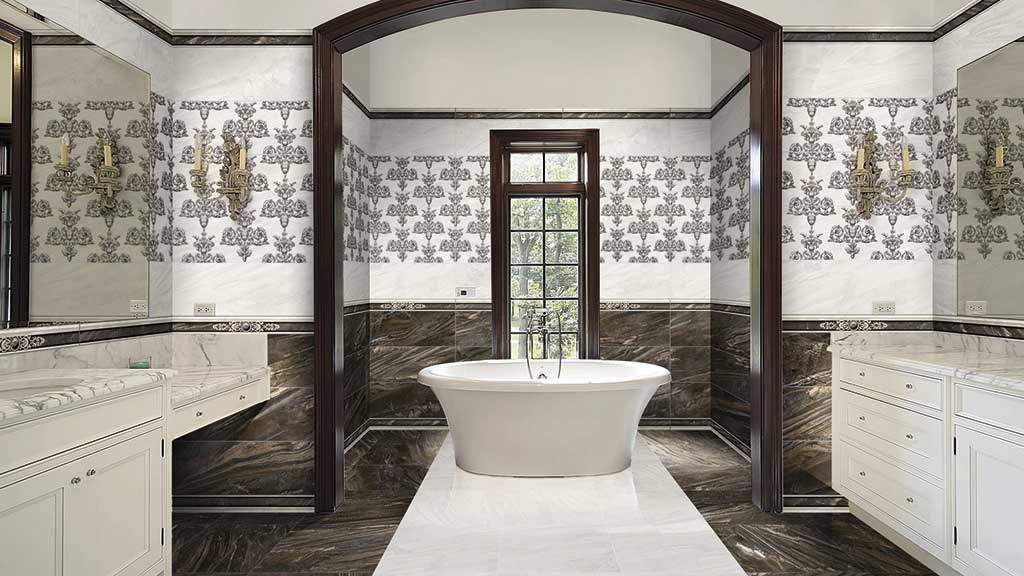 Image of vintage bathroom tiles Xian Collection
We want to highlight the good result that produces the combination of tiles for bathrooms in gray tones being one of the favorites of the best interior decorators because it manages to transmit, at the same time, elegance and modernity.
Image of Gray Tile Bathrooms Moonlight Collection
Combining decorative tiles with single-color tiles in bathrooms allows us to design to the taste of the most exquisite customers.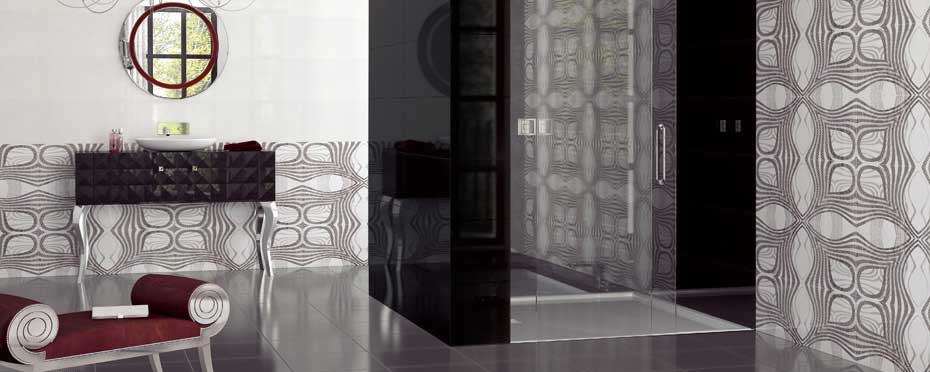 Image of original tiles for bathrooms White Collection
Combining tiles in small bathrooms decorates and dresses them, respecting the minimalist style so in trend and without taking up space.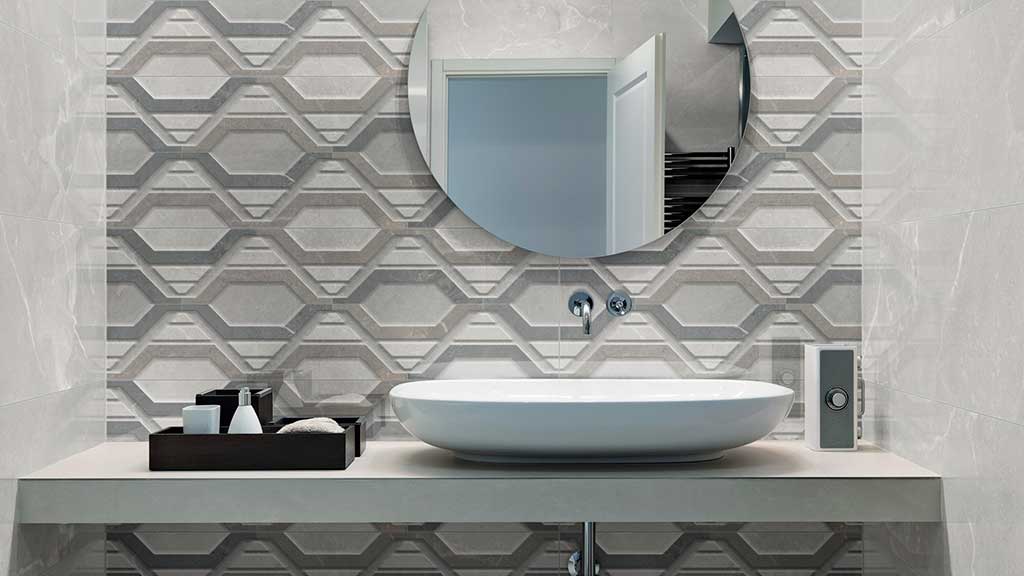 Image of combining tiles in small bathrooms Dubai Collection
An original design by introducing in the combination of bathroom ceramics a striking color to tile a modern bathroom.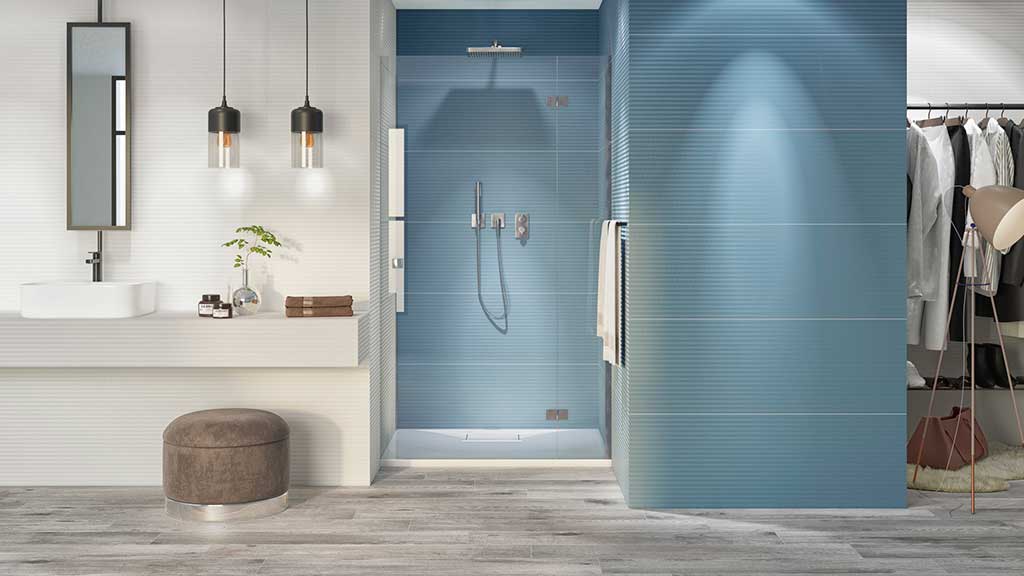 Image of Bathrooms with ceramic imitation Ibiza Collection
Imitation ceramic combination for bathrooms
Great results are achieved with the combination of imitation ceramics for bathrooms.
We love the result obtained by combining porcelain tiles imitating wood and marble in bathrooms.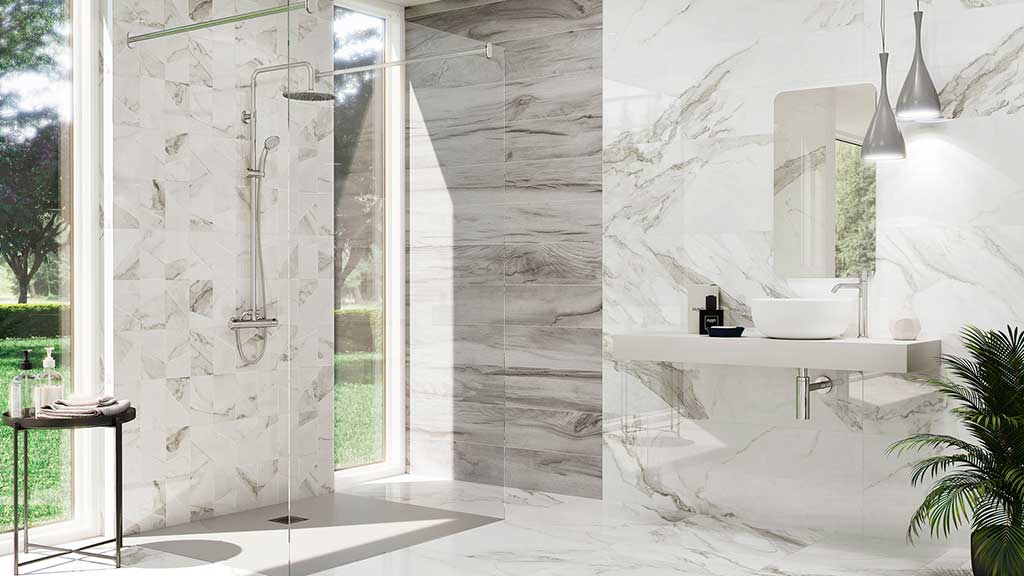 Image of Combination of Benetton and Calacatta Collections imitation bathrooms tiles
The same happens when combining tiles for bathrooms with imitation stone ceramics, achieving another spectacular result.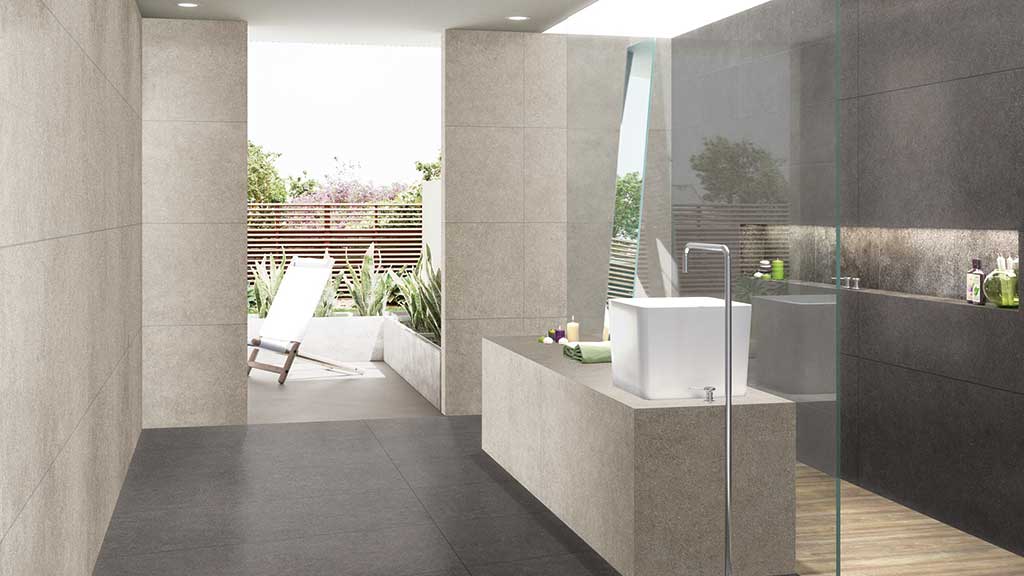 Image of ceramic bathrooms imitation stone Gobi Collection
Large Format Porcelain Tile Combination for Bathrooms
We advise you to combine elegant tiles for bathrooms using Large Format Porcelain Tile, to achieve an authentic Luxury Bathroom.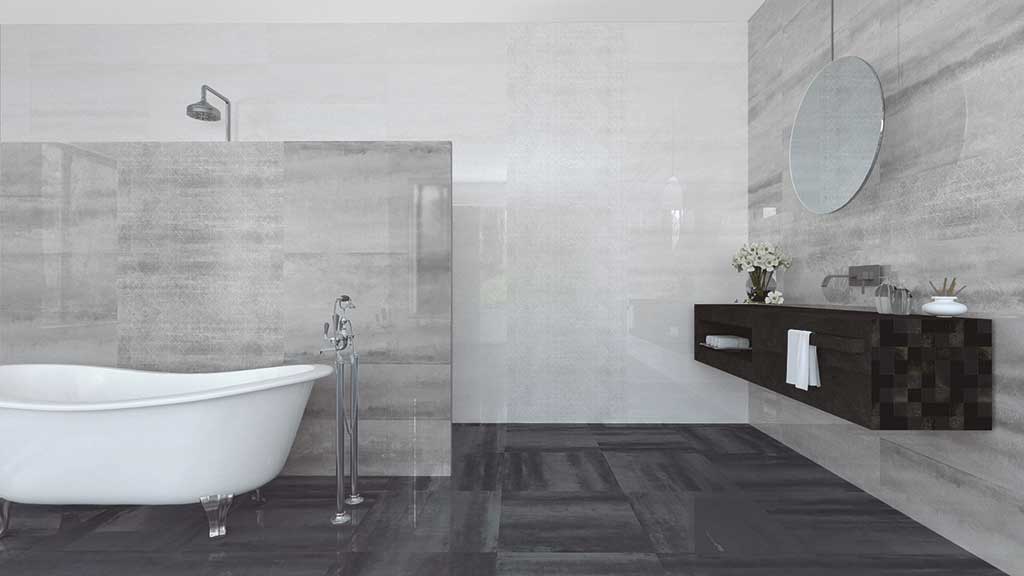 Image of large format bathroom tiles Synthesis Collection
The combination of large format black bathroom tiles is perfect for modern bathrooms.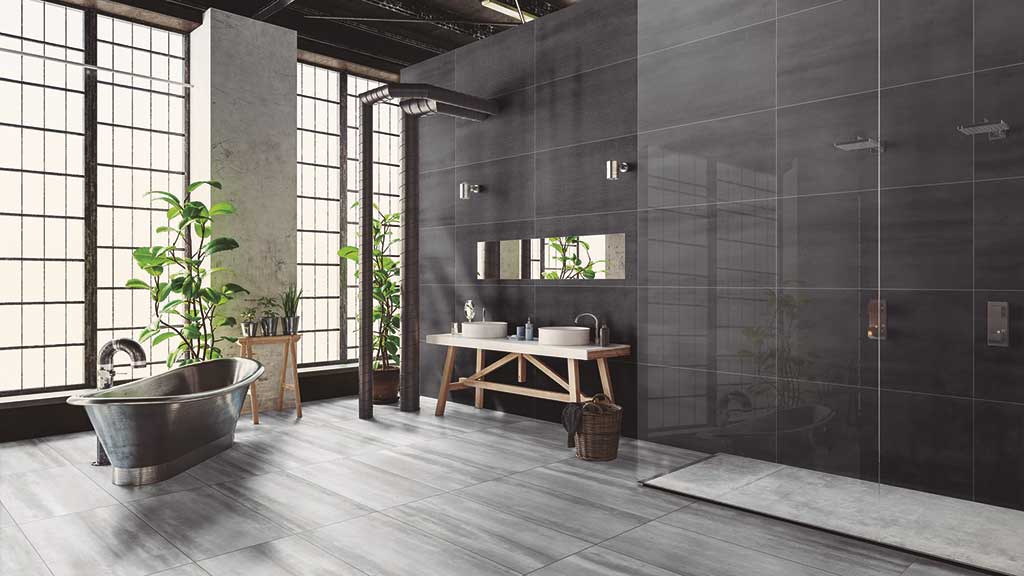 Image of porcelain tile baths black color Synthesis Collection
To dress the bathroom in luxury, another tiling idea for bathrooms is the combination of imitation stone tiles with other large format ceramics.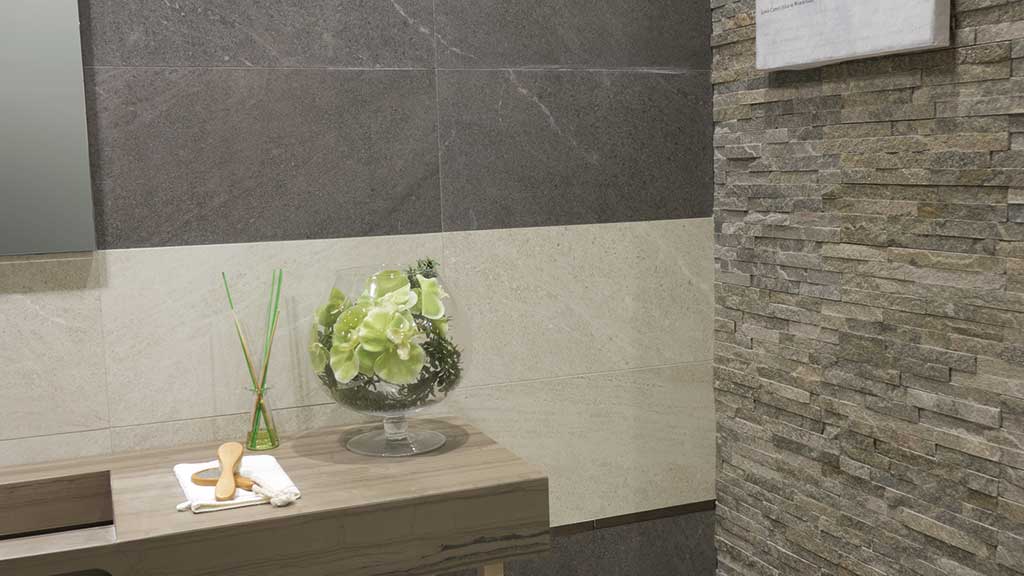 Image of bathrooms imitation flagstone Brooklyn Collection
In AZTECA we have at your disposal the following Catalogue of Ceramic  where you can find the combination of tiles that can best adapt to the style you want for your bathrooms:
Akila
Aneto
Ángelo
Armony
Artwork
Bali
Barrica
Bay
Benetton
Brooklyn
Calacatta
Cement
Cervino
Cosmos
Sa Vinci
Decorados metálicos pasta blanca
Decorados metálicos porcelánico
Delhi
Domino
Dream
Dubai
Elektra
Elite
Etna
Fontana
Gobi
Ground
Harly
Heritage
Ibiza
Legno
Lines
Macchia Vecchia
Metal2
Metax
Mirage
Moonlight
Nairobi
Inyx
Orion
Passion
Roots
San Francisco
Seastone
Shellstone
Smart Lux
Snowy
Softstone
Stoneage
Studio
Synthesis
Titanium
Toscana
Trinity
Vincent Stone
White
Xian