Since its origin, Large Format Porcelain Stoneware has established itself as a trend in the world of ceramics.
It was the Italian manufacturers, always innovative in design, who showed us the XL-size porcelain pieces in their catalogs and displays.
Over time, Large Format Tiles have become the protagonists of the best international Ceramic Fairs:
At Coverings 2021 , they were named a Top Trend by the world's top experts in ceramics, architects, and designers.
At Cevisama 2022 , they are announced as the most outstanding and interesting in its Technology Pavilion.
Large Format Porcelain is a product on the rise in the international market, with Spain being the country with the largest manufacturers of this type of format.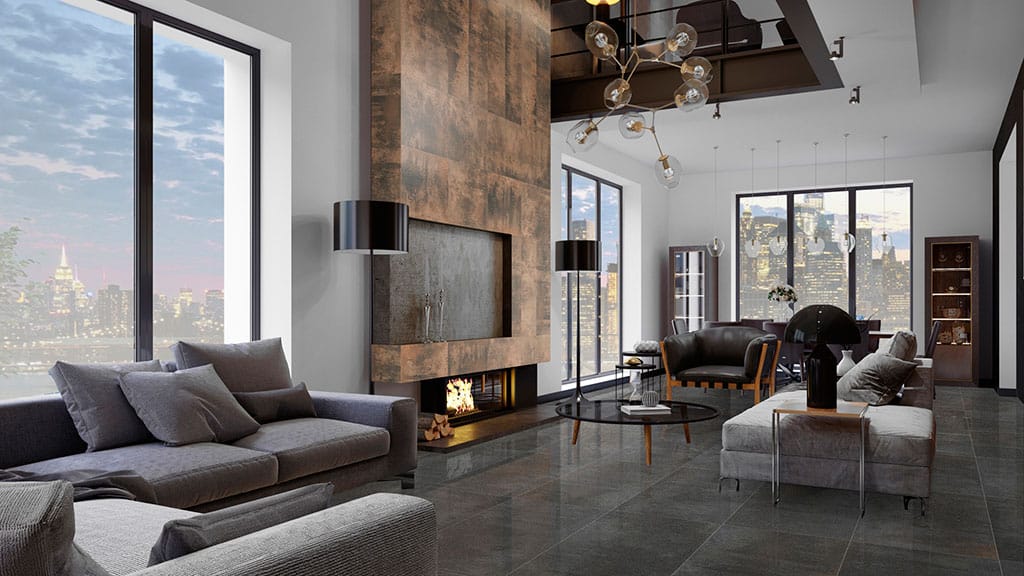 Orion Collection Image
Advantages of Large Format Porcelain
The advantages offered by Floor and Wall Tiles with Large Format Porcelain Stoneware have made it the favorite among professionals for:
Get to enhance its appearance to the maximum due to the visual uniformity it provides, highlighting its colors and veins more. Undoubtedly, where this advantage can be most appreciated is in large areas.
For creating a greater feeling of spaciousness, by having few joints.
Its easy placement with respect to other materials, also avoiding having to carry out demolition.
Being highly manipulable. Ceramic Manufacturers have managed to have Large Format Tiles in different thicknesses , in order to adapt them to any type of space.
Being a sustainable material, especially considering its long durability that avoids having to use new resources for its repair or replacement.
For being respectful with the environment due to its great chemical resistance, which avoids toxicity in the environment.
Due to the minimum degree of porosity typical of Porcelain Stoneware, which makes it easy to maintain in perfect condition due to its great resistance to:

Stains: Porcelain allows you to use all kinds of products for cleaning.
scratch its surface.
Break with impacts or blows
lose its tonality
wear out over time
Become damaged by extreme cold or heat
Humidity: the surface of the Porcelain Tile is waterproof .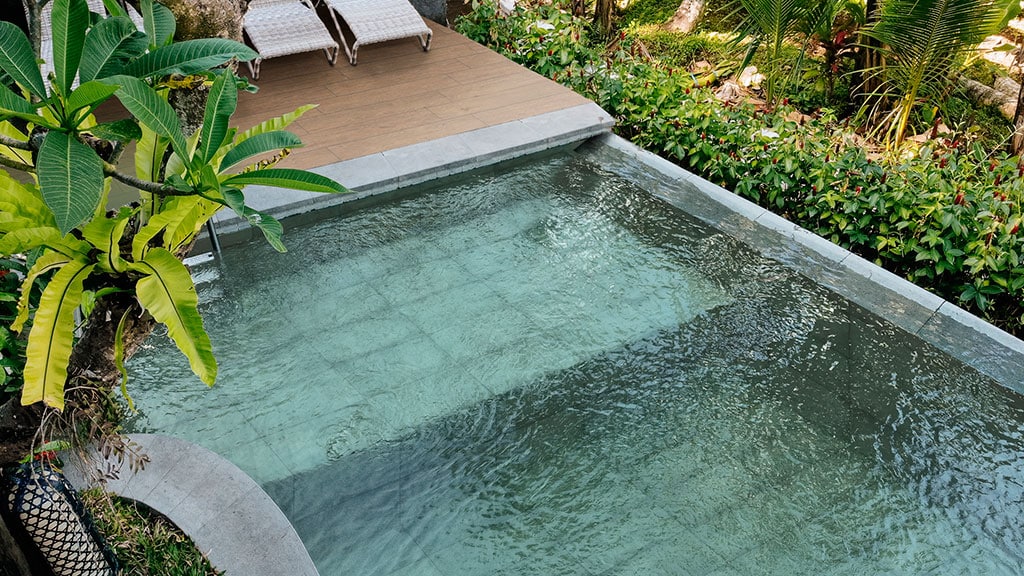 San Francisco Collection Image
Large Format Tiles
Currently, the different thicknesses of Large Format Porcelain Tiles available have managed to be used with great success in any type of room, both indoors and outdoors.
Large Format Porcelain Flooring
Large Format Porcelain Flooring is preferred:
Indoors: In luxury hotels, shopping malls and reception buildings.
Outdoors: On terraces and swimming pools.
Large Format Porcelain for Facades
Large Format Porcelain Tile is the most widely used as flooring and cladding on facades due to its great strength and durability.
The success of Large Format Porcelain on facades is due to:
Its longevity: the designs need to last longer since the structural walls of homes cannot be renewed from one year to the next.
Bring together all the technical advantages of ceramics with the latest trends in exterior design.
Help the energy efficiency of the house because being more comfortable, economical and improving its acoustic insulation, it becomes an ecological option; This is because, by minimizing its energy consumption, it uses renewable energy and, therefore, greenhouse gas emissions are reduced.
Offer dimensional stability.
Its impermeability, durability and resistance to withstand the climatic changes to which outdoor materials are subjected.
Require very little maintenance.
Visually enlarge the work.
Produce a sense of visual uniformity
Its easy placement, being the most suitable due to a lower need for the number of plates, thus minimizing installation times both in a new construction and in a rehabilitation process.
Meet all the requirements of design, quality and resistance that great designers and architects require when it comes to tiling a wall.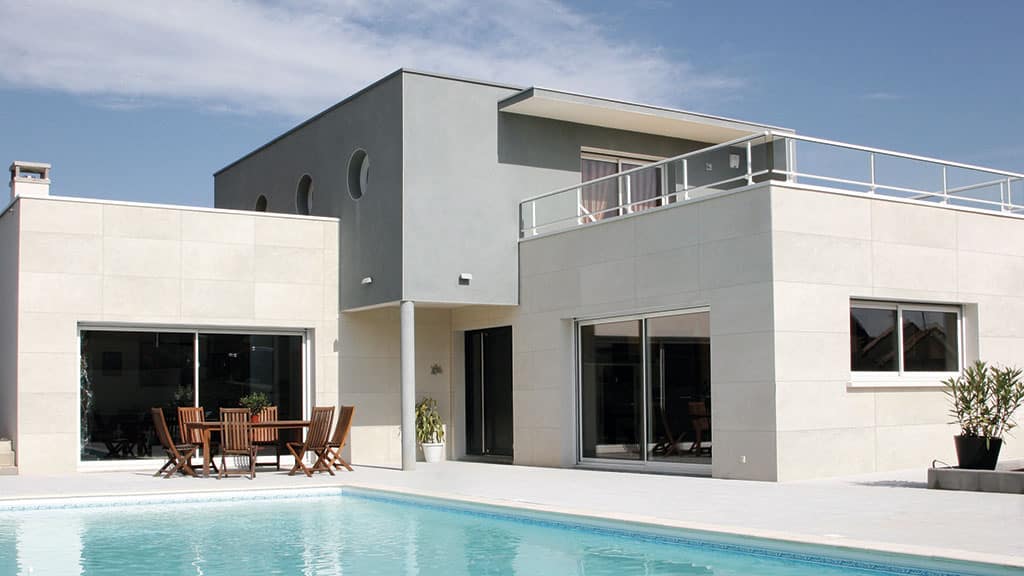 Studio Collection Image
Large Format Porcelain Imitation Marble on Facades
The impressive and majestic appearance of Marble together with the great resistance, durability and beauty offered by the Large Format Porcelain Tile have made it a trend both in facades and in exterior cladding.
Large Porcelain Format for Bathrooms and Kitchens
Large Format Porcelain Tiles for Bathrooms and Kitchens , in addition to avoiding deterioration due to stains and humidity so common in this type of room, have the advantages in design and beauty that the Large Format offers.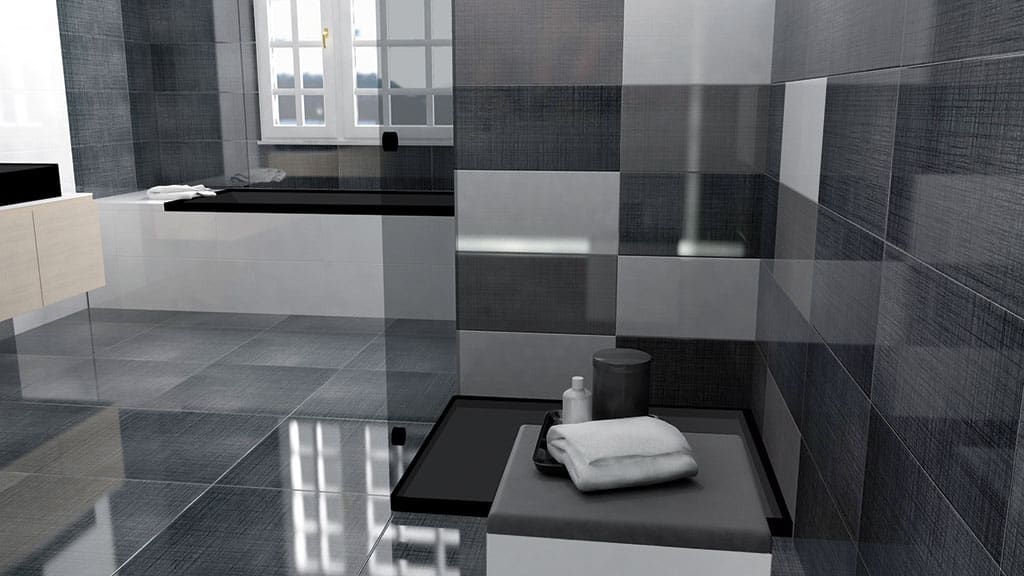 Barrica Collection Image
Because it has few joints, Large Format Porcelain Stoneware is the most suitable for Bathrooms and Kitchens, since it minimizes the areas where dirt can be stored, causing faster and easier cleaning.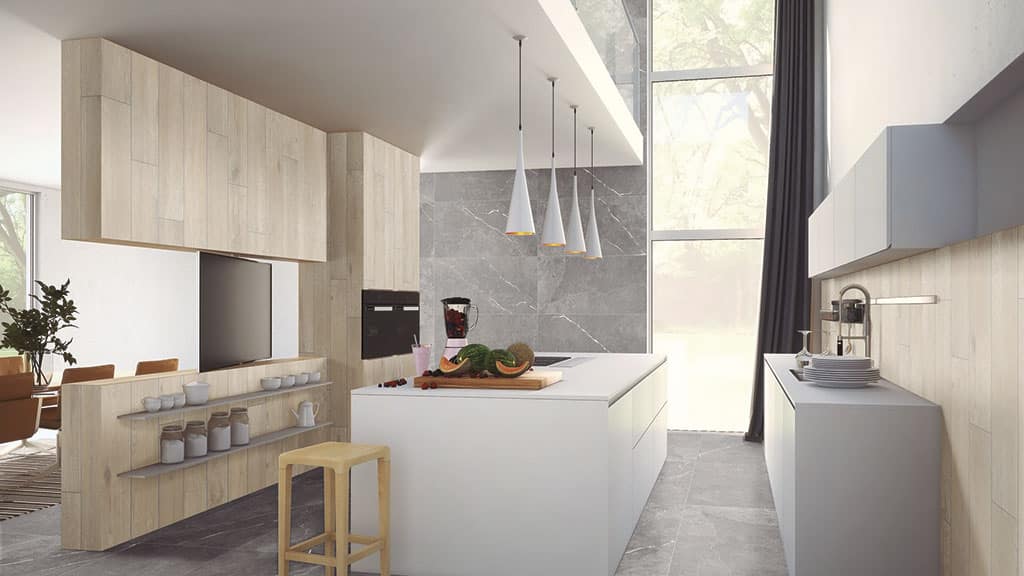 Aneto Collection Image
Large Format Porcelain Tiles for interior decoration
Think big! The size of the tiles is related to the feeling of spaciousness.
When it comes to tiling a wall for any interior room, Large Format Ceramic meets all the requirements of design, quality and resistance required by the best designers and architects.
According to the expert opinion of the best designers and architects, the combination of Large Format Tiles with Porcelain Tiles imitating Marble , Stone and Wood is a guaranteed success.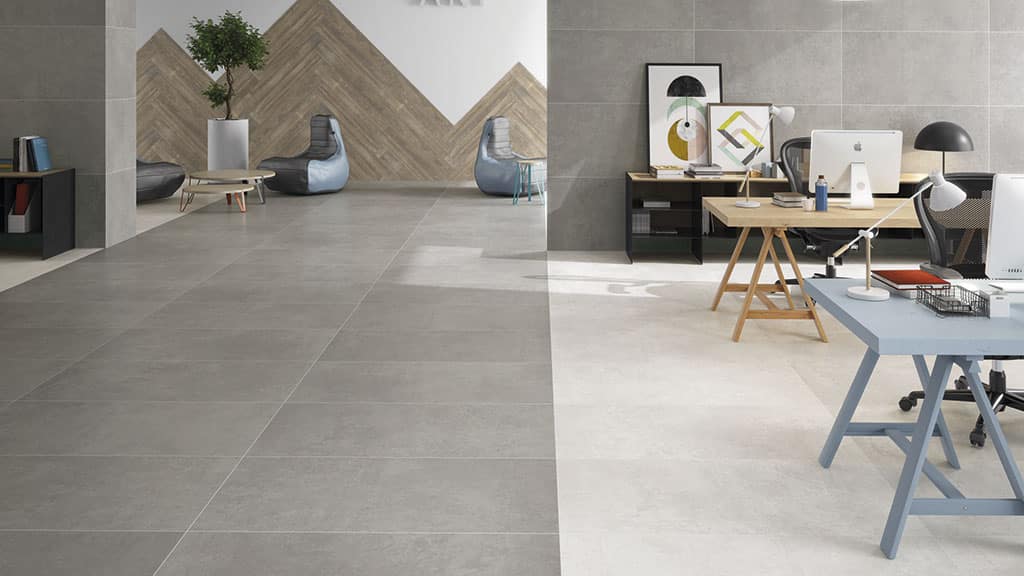 Studio Collection Image
Azteca Collections Large Format Tiles
For all the above, Large Format Porcelain is the best choice for architects and construction professionals, both for exterior and interior decoration.
As Ceramic Manufacturers and with more than 60 years of experience, at Azteca we offer all these characteristics along with a wide range of finishes.
In order to adapt to the taste and demands of each client, we have created a wide variety of designs in Large Format Tiles differentiated in the following Collections :
AKILA
ANETO
ANGELO
BALI
BARRICA
BAY
BROOKLYN
CALACATTA
CEMENT
CERVINO
DA VINCI
DELHI
DOMINÓ
DUBAI
ELEKTRA
ETNA
FONTANA
GOBI
IBIZA
LEGNO
MACCHIA VECCHIA
METAL2
METAX
MOONLIGHT
NAIROBI
ONYX
ORION
PASSION
SAN FRANCISCO
SEASTONE
SHELLSTONE
SNOWY
STONEAGE
STUDIO
SYNTHESIS
VINCENT STONE
WHITE