The time has come to reform your summer home. Whether you are going to renovate the old apartment where you spend your holidays with your family or if you want to rent it and give it a more modern and efficient look … We will tell you little tips to make your reform a success.
What must be taken into account to reform your summer home?
When starting a renovation, we are all clear about how we want the result to be, a new, modern space that reflects our personality. It is easy to imagine the decoration, but this is the last link in the chain.
The first step to follow will be the choice of materials. At this point in the reform of your summer home you have to be clear about one issue. The material has to be resistant, durable and of quality. And above all it has to be practical and efficient. We don't want you to spend your summer vacation worrying about the consequences of a poor choice of material.
Floors and walls
If in the summer housing reform you contemplate reform the facade and the terrace you will have to bear in mind that the material must be resistant to sudden changes in temperature and humidity. We will only spend the summer months in it, but the house has to hold up perfectly throughout the year. In this case, the most resistant material is ceramic. Its hardness and resistance guarantee its great durability.
Ceramic has also become the perfect option for floors and walls, as it contributes to improving the energy efficiency of your home. The inherent thermal mass of tiles reduces peak heating and cooling, helping to moderate temperature changes in homes. You can reduce the excess heat that accumulates in other types of materials during the hottest months of the year.
Para los colores, elije cerámica en tonos claros como el gris, el bone o el beige. Le dará frescura y luminosidad al espacio. ¡Perfecto para los meses de verano! Y si quieres darle un toque más original puedes optar por cerámica para paredes con relieves, como nuestras colecciones Ground y Capri. O combinar los suelos y paredes de cerámica en tonos neutros con una pared con un decorado tropical como el de la colección Gobi.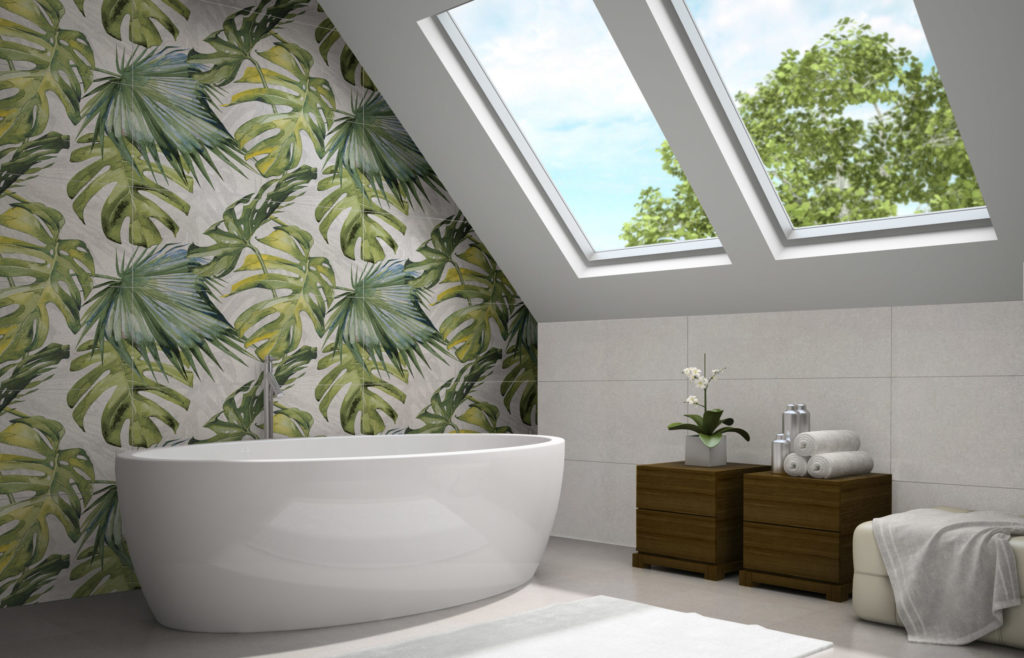 Don't worry about cleaning. Although it is light tones, ceramic is a material that is very easy to clean and accepts any household cleaning product. It is the cleanest and most hygienic materials that can be found in the market.
Furniture and home textiles
Now the time for decoration has come. Remember that with the choice of the ceramic for floors and walls in neutral tones you have opened a range of possibilities without limitation. You can now fill your house with color and details.
But beware, less is more. For a summer home, what we want is fresh air. A space where all the light of the long summer days enters. Decreasing the number of elements we achieve that luminosity. In addition, you will save on your electricity bill.
As with ceramic floors and walls, remember that the furniture has to be resistant and of quality. For example, choose ceramic countertops for the kitchen over chipboard. It is much stronger and easier to maintain.
Do not abuse textiles either, they give a feeling of warmth. Opt for colorful cushions and blinds that let in the light. You will get the fresh air you were looking for with a touch of personality.
With these keys to reform your summer home, your house will be beautiful, functional and resistant. And if you have any questions, ask us. In Aztec Ceramic We will advise you on the ceramic material that best suits your needs.