Ceramics have stopped being a mere construction material, having become a more decorative product, a material that solves construction problems, with the ability to customise any space.
We invite you to learn about each one of our new designs for 2022 in detail.
The Orion rectified porcelain collection, inspired by the Orion constellation, shines wherever it goes. It surprises viewers with its iridescent shine produced by the blend of minerals in the glaze. Because of these, it gives off a "glittering" effect.
2 finishes: Lux (lapped finish) and Scintillante (a new, unique finish with a soft touch that gives off an unconventional "sparkling" effect).
5 colours: blue, copper, greige (Contract channel), titanium and pearl (for all types of spaces).
3 formats: 60×120, 60×60 and 30×120.

The highly industrial spirit of the Cement Collection can become a very elegant option with the infinite decorative choices that we propose.
2 decorations in 30×90 and made of white paste: Candy decoration (very colourful and geometric, with 5 different designs) and Cozy (a sight to behold, mixing different textures and colours using the latest ceramic technology, offering up to 5 different designs).
1 decorative relief called Cru, which has a hand-crafted appearance, and is available in four colours in 30×90 format.

Roots collection is paying homage to traditional ceramics, a return to its origins and natural features. Baked mud pieces have been scanned so that they can be represented in full detail.
4 colours and one rectified porcelain format.
3 decorations: Real (appears to be in 30×30 format, simulating a joint in the 60×60 piece), Reco (reminiscent of Art Deco) and Ray (in the 60×60 format, blending different lineal structures mixed all together, creating harmonic, modern combinations).

From the Alps and the immensity of its mountains, the Cervino collection is born!
In the black version, a finely veined, tree-like marble was chosen with white and orange tones.
In the white version, we opted for a ground-breaking design with a white background and contrasting black veins.
All the usual formats are presented in rectified porcelain and a finer lapped finish so that it can reflect light as if it were polished.
Meanwhile, we have opted for the 40×120 format wall covering, offering it either in white or with a decorative option on white marble with a combination of black and other designs reminiscent of Art Deco.

Onyx, a mineral classified as a precious stone with its transparency and bright background, is the inspiration for this collection.
5 colours: ivory, light grey, and dark grey, light green and light blue in lapped finish.
Azteca's usual formats are available in porcelain, as well as a 30×90 in rectified white paste.
In terms of wall coverings, we offer two decorative options.
Crete Decoration, with an effect that we call "shadow" in which a decorative motif can be seen depending on how light falls on the piece.
Wavy relief Lot, which is very modern and can be used to completely cover a wall, providing modernity and freshness to the room.

The Angelo collection is made up of an explosive combination of the purest white you can imagine along with a silky texture.
It uses Carrara marble as a base, maintaining a whiteness never seen before in the background, crafted in two different colours. The new, "silky" finish is as pleasant as silk, and it is suitable for both flooring and wall tiles.
The "Gold" option gives a fashionable touch of warmth and majesty, and the "Silver" option has a more neutral tone that combines with cooler colours.

Ceramic is capable of reproducing natural materials in great detail and, on this occasion, it has even managed to capture the original relief of slate, accompanied by other designs and even the natural shine of real stone. The collection is available in rectified porcelain.
4 formats: 60X120, 60X60, 30X60, and 19.4×120.
1 decorative option: the rocky relief lets you play around with combinations of smooth and striped pieces.
4 colours: slate, grey, bluish-black, and cream.
2 finishes: natural and non-slip.

The inspiration for this collection is limestone sprinkled with shell and coral fragments, creating unique textures and patterns.
In rectified porcelain, you can choose between a natural or non-slip finish in the usual formats and in four warm, trendy tones.
In white paste, we used the famous 30×90 format, and you can choose between the "Lot" decorative relief and a soft, elegant decoration called "tapiz," or tapestry.

we have incorporated a series of metallic wall covering decorations for the 30×90 and 30×60 rectified formats. We are also launching something new: steel- and copper-coloured trims that can be combined with a wide range of products.
4 decorations in 30×90: Leaf (floral), Art and Mill (geometrics), and Braid (linear).
In 30×60, we propose a simpler relief called Slip and another, more elaborate one with little squares in 10×10 with different decorations called Kit.

The new Legno collection is inspired by birch wood with four, meticulously worked natural tones.
It is a very complete collection, with various formats and decorations. A wall covering in 30×90 can accompany white shades, marble, cement, or stone. The 60×120 decoration is made up of differently coloured planks with irregular shapes and the usual 30×120 and 20×120 formats.
2 finishes: non-slip finish and a smooth finish for interiors.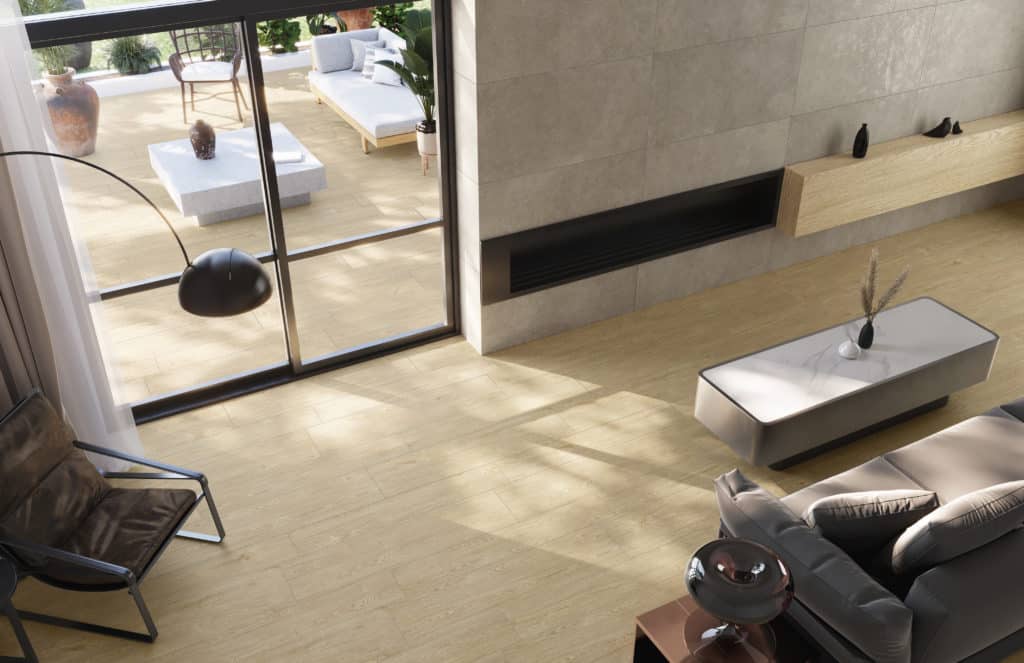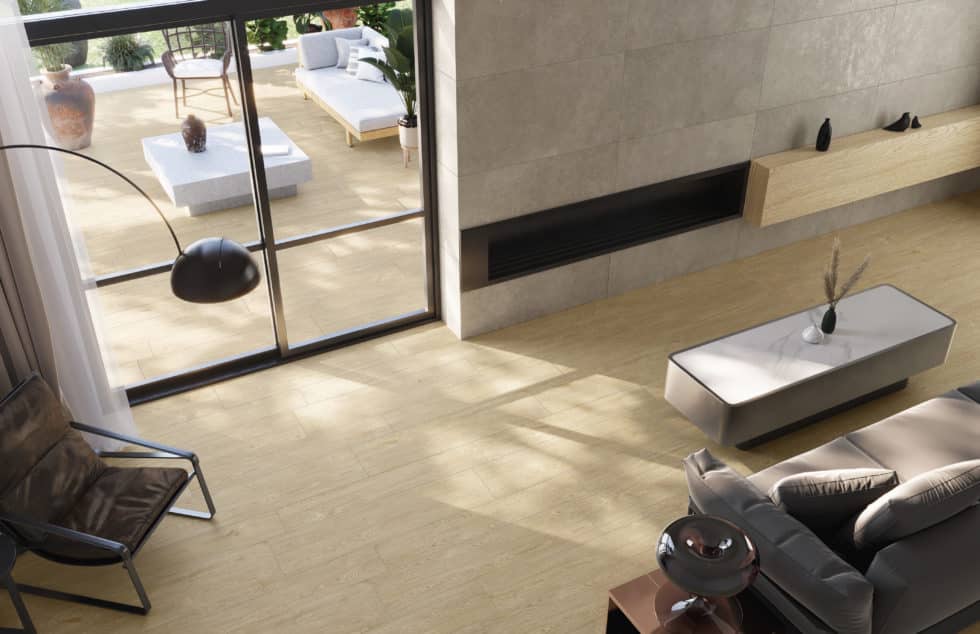 If there is one thing that never goes out of style, it is white, with all its luminosity, cleanliness, and spaciousness.
2 finishes: Shiny finish (with a micro-volume gloss on a white matte background) and Shadow finish (with an optical effect in which a pattern is revealed as light falls on the piece).
2 new reliefs in 30×90 and 40×120, always maintaining the characteristic whiteness of Azteca's UNIK collection.

Rapolano stone is a classic that is always in style. In this case, the York collection is based on a soft and elegant rapolano that offers the option of combining the usual rectified porcelain formats (60×120, 60×60, and 30×60) in a lapped finish, with the 30×60 format in rectified white paste.
The 30×60 wall covering option is available in both gloss and matte. The colours in this collection are soft, easy to combine, and timeless.

Hydraulic designs originate in the mid-nineteenth century in southern France, and since then, they have coexisted with us as the perfect ally of modernist style for its colourful and fanciful combinations.
2 different designs in four tones: Fiore (is reminiscent of traditional encaustic designs) and Cubic (creates a very attractive, three-dimensional effect).
The format we chose is 60×60, simulating 30×30 squares in rectified, lapped porcelain using digital effects that add volume to the piece.

It is a sheet metal with metallic effects on the edges.
6 colours: white, oxide, and black (distribution channel) and pearl grey, aquamarine, and graphite (Contract channel).
3 porcelain formats: 60×120, 60×60, and 30×60
2 finishes: natural, and lapped finish with a slight relief texture.

This collection, developed in porcelain and white paste, aims to satisfy the needs of the Contract channel in its porcelain version and the needs of the traditional channel with the wall coverings and flooring as a whole.
It imitates the finish of a concrete with great variety in the design and moderate shading.
4 colours: grey, white, graphite, and taupe.
3 formats in porcelain: 60×120, 60×60, and 30×60; and 1 format in white body:30×90
3 finishes: natural finish (R10), lapped, and non-slip (R11).

It is an original grey marble called "Fior di Bosco,". Its sober background mixes lead and smoke tones. It contains a burst of very fine, arborescent veins that alternate between white and amber.
4 colours: graphito, ice, grey and taupe.
3 formats: 60×120, 60×60 y 30×60.
2 finishes: lapped and natural finish with glossy streaks
Wall coverings in 30×90 gloss format.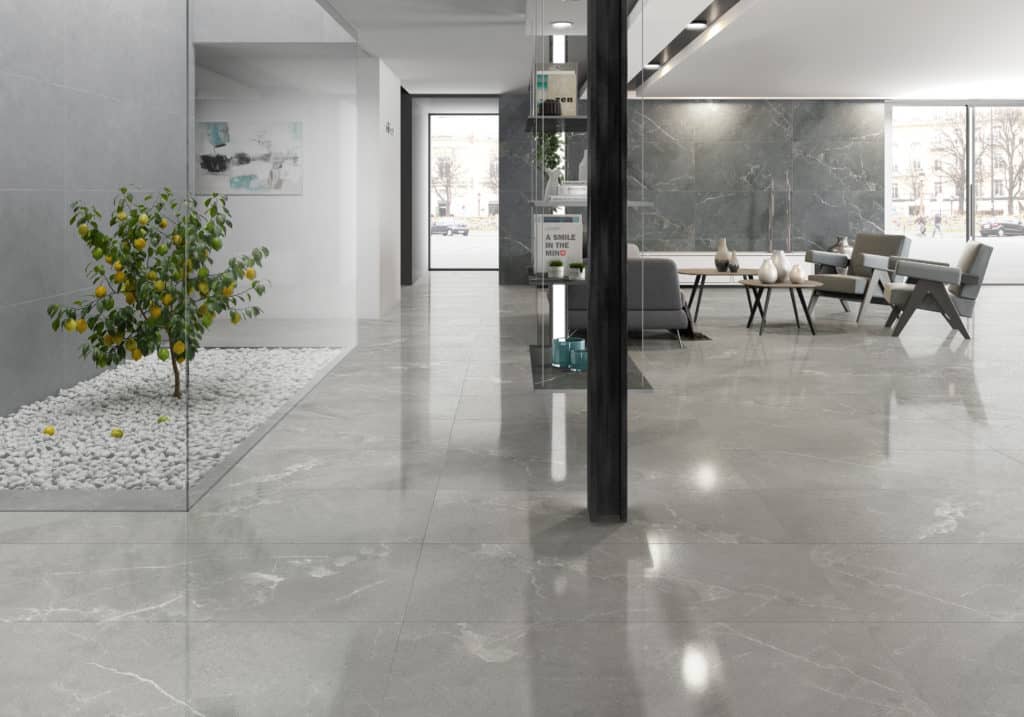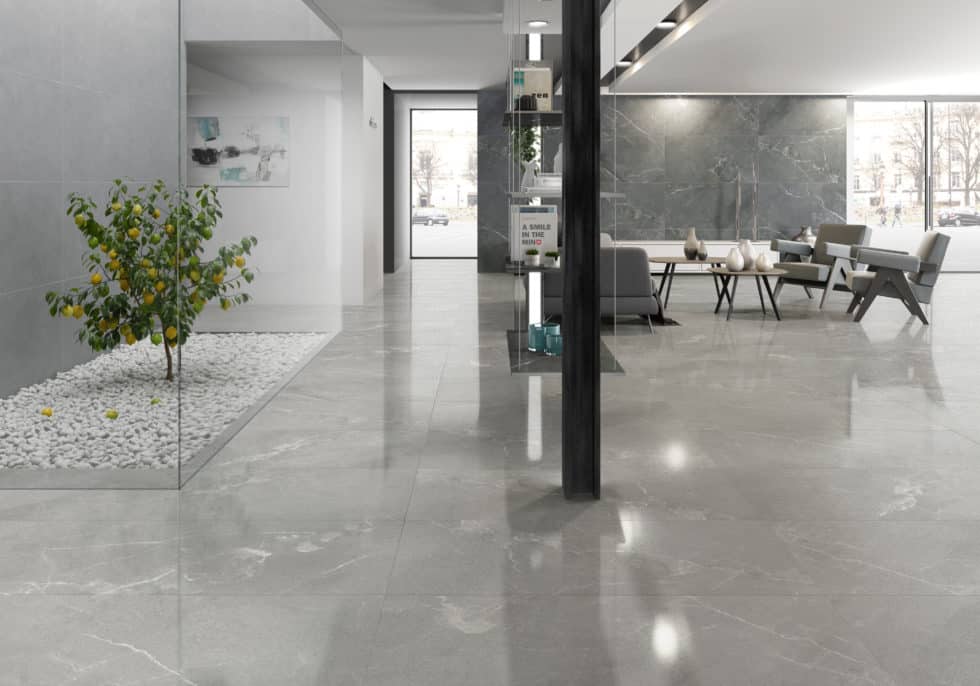 This collection is inspired by a natural Spanish stone called San Vicente.
To break with the classic decoration, we have designed a ground-breaking decoration with the help of two trendy colours–cherry and green–and a texture of tropical leaves with a relief of geometric shapes, reminiscent of Art Deco.
3 rectified porcelain formats: 60×120-60×60 and 30×60.
3 finishes: natural, lux and dry.
1 rectified 40×120 wall covering
3 colours: dark grey, grey and white.

Inspired by the "Macchia Vecchia" marble, itself, with its white background with golden veins and the characteristic touches of grey and beige. It is a material that suggests settings of the highest luxury and majesty.
2 colours: Gold and Silver. T
The porcelain is presented in 60×120, 60×60, and 30×60, in Natural and Lapped finishes.
To accompany the flooring, a 30×90 matte white combinable paste has been developed, from which you can choose between gold and silver.
2 decorations: Palm (which tropical palm trees appear and disappear) and Dots R90 decoration in rose, pearl grey, and white.

As its name suggests, barrica, or "cask", is a rustic wood inspired by the planks of an old wine cask. We can appreciate the originality in this wood, with all its knots and chromatic richness that make it look like real wood. Well, this collection can be used for both floors and walls, both indoors and outdoors.
5 colours: bone, honey, walnut, chocolate, and grey.
2 formats: 20×120 and 30×120.
2 finishes: natural and non-slip.

Colours are back to stay after a long season of austere and Nordic trends. New technologies allow for the creation of micro-volumes to give different, fine, and elegant effects.
1 format: 40×120 white body
5 Colour: white, grey, taupe, emerald and navy.
In addition, to give a daring touch, we offer the Decor Indalo option, which shows a very interesting textile weave effect.

We propose the Heritage collection as a complement to a wide variety of product types, as it can be combined with cements, stones, veneers…
Presented in 30×90 white body format simulating 15×15 squares with different materials worked in to create unique volumes in each of the pieces.
3 colours: green or blue for a more unique room or white if you want to achieve a more neutral finish.
In all colours, there are "aged" edges that add character to the collection.

The metallic trend in the world of interior design is ever present, and for lovers of this style, we propose the Metal2 collection. It is a risky bet for its innovative design, as we try to get the pieces to be as similar as possible to a real sheet of metal.
3 formats: 60×120, 60×60, and 30×60 porcelain tiles, all of them in a rectified finish.
5 metallic colours: oxide, black, superwhite and blue in a lapped finish, and silver in a natural finish.
All colours can be used as floor or wall tiles.

The industrial style is increasingly present in our lives, which is why the METAX collection is the perfect proposal for those who love industrial, metallic effects.
3 colours: superwhite, oxide, and blue.
4 formats60x120, 60×60, 30×60, and 19.4×120 rectified porcelain.

From Greece comes the inspiration to create the SNOWY collection. It is a collection based on white Dolomite marble, with its slight greyish streaks that mimic the almost mystical brightness and luminosity so characteristic of this famous material.
Collection of rectified and lapped porcelain tiles in 60×120, 60×60, and 30×60 formats to provide light and spaciousness to any space.